Believe it or not. But we assure you that you gonna believe us. Selecting your attire for a wedding is one of the most difficult and one of the most interesting task. Here on MensItaly we assure you that It may not a and the girls have all the plans to shine. Phone bills are rolling with the discussion what to wear and what not on the gala day. But the men shouldn\92t a stay a step back. Time to beat the beat this summer with your fashion IQ. Following is the tick-mark list you would like to go through.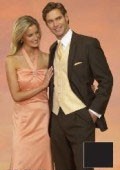 Try Khaki in-trend suits:
The classic khaki suit is one that should be tried this summer with a comfortable note. Depending on the time and paired with a cream colored shirt, dim shining black tie and black or brown stitched shoes. You will be the one whose grace will be matched with the groom only.
Try some all time great, Navy blue:
An excellent option for a summer suit . A linen look on your blue suit with a light blue, cream or off white shirts with shining cufflinks. To add the taste to beauty you would like consider wearing brown loafers and a bowtie. A pocket square for a final touch and to ensure that you are special member in the invitation list.
For casual invitation:
If it is a casual invitation, but its a wedding, a pair of jeans may be a thing of consideration with walking loafers and tailored jacket and an open shirt.
A fitting tuxedo:
A tuxedo or dinner suit or dinner jacket is a formal evening suit distinguished primarily by satin or grosgrain facings on the jacket's lapels and buttons and a similar stripe along the outseam of the trousers. Nothing goes more killing than a neatly stitched, ultra-fit tuxedo. If ladies turns while walking you don\92t need to surprise as you are all to have a look again this day. Prefer dark color. No need to add, black is the best for you.
How can you forget the magic of linen:
Linen, all time favourite is one you can envy other guest any time. Specially in a day time a white linen suit with leather sandals would give you a that-actor-on-the-TV look. Not required to add you would love to photographed with your cool pair of shades. If the celebration is near beach your chances of stealing show becomes double. Be ready with your linen.
If it\92s an occasion more or less formal and there is nothing like a celebration thing, in the day timing a black tie may be recommended with a dinner jacket. Supporting this a white shirt will do the trick with suitably chosen formal slippers.
Our Last advise....
Don't be afraid of pattern in your suit or shirt choice. Suits can be worn with either a plain shirt or one with a little pattern such as a small flowers or little design print. Pocket square may be avoided if you have gone for a patterned shirt or suit or choose a subtle option to avoid too many patterns from clashing.