Sleek, leather jackets will never go out of style. You know why the best-dressed men are confident? Because they know their outfit is proper enough to impress anyone. Leather jacket is one of the most impressive parts of your outfit. Whatever colour you choose, whatever style you pick, whatever quality you go for, it will look great. But size is the only constrain that you need to be very precise at!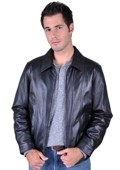 Undersize or fit jacket will make you look funny and over size jacket ought to make you look untidy. Here is a guide about how to choose size of the leather jacket. There are lots of people out there on the streets who think oversize is cool. But please come out of it, and think about your own image. Leather jackets are meant to make you look stylish not untidy.
Perfect Size Leather jacket:
Buying one in your own measurement is actually a correct shopping style I would say. The cuffs of the jacket must hit your wrists, while your arms are resting on the sides.
But sometimes people have experienced one thing that, leather jackets become too big over the time. If you are a person who likes the snug feeling of a new jacket, then try buying one size small. However weird it sounds, actually lots of people do this. Leather jackets actually should be worn "tight". Some people even prefer to have a size less!
Only restriction is never go for over size.
Some jackets designs make you look slimmer; and other may cause you to look fat.
If you are slim buy bomber-style leather jackets, they have broad shoulders. They have extra space in the chest area and usually fits snugly around the waist. If you are not that thin, a bomber jacket may make you to appear fat at your waist section, As most of them have thick lining or padding made of fleece or sheepskin.
If you are tall, buy a biker or motorcycle jacket. Motorcycle jackets naturally contain some visual effects like zippers and pockets, that may not suit the men considered to be short.
If you are extremely skinny, buy a leather jacket which have an elastic waistband and will cinch snugly beneath your stomach. The elastic waistband will highlight your upper chest and may make you to appear strong.
If your waist section is bulky, buy a straight jacket. Strait jackets may help visually eliminate the bulk. Whereas jackets which contain elastic waistbands and multiple pockets may emphasize your thickness.
So with all this information, go to the market and grab that another essential, which needs to be forced into your wardrobe. I mean seriously, a perfect size leather jacket can be worn as casual wear as well as formal. It's a stylish piece that will never run out of fashion. It will be the most fantastic item in your wardrobe that you can use almost at any occasion. So go grab one for yourself, right now.