Attires have a specific task to perform. Suits and dresses are worn to look handsome and graceful. Men are often seen wearing suits of various designs and cuts. But all are not appropriate for every occasion. The suit, dress shirt, tie and shoes that you wear to office are not the attire that you will like to wear to a wedding party or a family get-together. Hence attires are categorized as formal attires and semi-formal attires.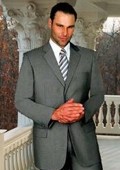 Suits that are worn for formal occasions and to professional events as well as to offices are the formal attires. The semi-formal attire for men are those suits and attires that they can wear any time to attend casual events like friends' party or a night-out and other occasions where you can be yourself at every moment. If you wish to look smart and handsome and flaunt your personality, you must know what is considered semi-formal attire for men or what a man should wear to attend a semi-formal or casual occasion.
Often men go out to meet friends and enjoy and also attend family gatherings and have fun during special occasions. Semi-formal attire is best suited for such casual occasions. A casual dress code allows a man to express himself in different ways. He can stay comfortable yet look attractive and dignified. If you are confused about your semi formal attires and cannot decide what to wear for a casual occasions, here are some ideas that will help you to look different from others.
When choosing the semi-formal attire consider firstly the occasion that you are going for, secondly the weather and the venue and most importantly the design and fits of the attire. A perfect combination of color, fabric and fit can give an amazing look to become the center of attraction at all semi-formal events. Step into MensItaly to pick up the best suits that you can wear to the casual party as the store offers an amazing collection of semi-formal attires for men of all sizes and shades and occasions along with appropriate accessories.
The designs and the cuts that you should choose must be in tune to the fashion trends. But that does not mean that you have to look funky and wear bright colors and gorgeous attires even on a beach-party or a dinner party during the summers. If you are not so conscious about style and colors, take the advise of the professionals at the stores who will be the right persons to pick and choose the perfect attires that will suit you the best.
The attires that are mostly considered as semi-formal dress and have a style of their own are the trousers and khakis of any color paired with matching shirt or plain polo or a V-neck sweater. They look extremely trendy and feel cool too. Add stylish belts and elegant footwear for a complete look. Staying simple and neat is the rule for semi-formal events and so the best-fitted casual attires will give you a perfect look and you will feel comfortable too to enjoy yourself to the fullest.