Leather Jacket is not just a garment. When you decide to buy one, it can become your personality statement. Make a decision, and get only that colour which suits both you and your wardrobe the best. Confused, is your current state of mind! Am I right? Don't worry! I am here to tell you some specific things, which you should think about, before adding your expensive passion in your wardrobe.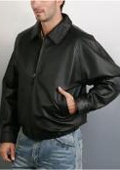 No wardrobe is complete without a leather jacket or leather coat . This is that style which suits everyone. Whatever your age, size, gender, everybody must get one.
All round the world, in the entire fashion world, every year dozen's of models walk the ramp wearing various stylish leather jackets.
I am going to guide you through the way of , how to become icon of this evergreen style.
History: Leather jacket entered the fashion world in somewhere around 1950s. Entered in the Hollywood, it became popular very soon in all over the world.
Just same as suits, leather jackets also don't age; it just progresses. If you buy a wrong one it will sit there on your rack for years….
The Fashion:
Leather jacket always comes in different styles. Sometimes you may like quality of one company and style of other. Try to search a little more. As every company tries to touch almost every fashion. The three popular fashions are Moto, Bomber and Double Rider. All the other cuts are just variations of these three styles.
Colour:
Colour is the most important choice to make. Black is most popular colour here but there are other options in the market. Of course black looks great and gives you the most classic look. Black always bears the sense of instant coolness.  It's hot, edgy, and most importantly goes with most of the outfits and suits any look.
Study the available options like chocolate browns, tans and even butterscotch leathers are now readily available, you should try them as well. 
Brown looks more stylish as compared to the formalistic black. It will help you stand out in the mob because of its versatility. It can even be paired with almost every colour, also makes you look stylish all the time. Make sure that you get some classy brown shoes to wear with it!
Select a colour:
Undyed leather — It gives you rugged look, varying colours;
Black — the classic look and smart appearance;
Oxblood/burgundy — a more urban and classy option;
Brighter colours — Can give you a "racer" look, especially the motto style, but in general considered a little feminine
Buying a leather jacket is usually quite simple. Once you decide the style, colour and fabric you want, there are only a few brands or alternatives to choose from. Try checking few different places — if you have a clear idea what kind of jacket you are looking for, it may even take a few minutes at each shop to check the available options.
Happy colourful shopping!!!!