When we think about tuxedo than a image of gentle, stylish formal man flashed in eyes. How can one Wear A Tuxedo which you can make to look a gentle man as various options are available for it is only matching of color is important or there are some more factors to be considered how does a choice of shoes can affect tuxedo ? In this article we will suggest you some ways using which you can make your looks more stunning while going to use a tuxedo. So here is a list of some basic rules that you must keep in mind while wearing tuxedo.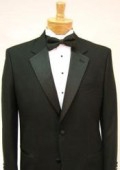 Lets start you dressing with a tuxedo:
Occasion must be kept in mind for sure, as choice of notch lapels is also essential, as dinner jacket shall never have notch lapels. Obviously, they are not that much formal for a proper tuxedo. Shawl collars and peak lapels are the only options, which are acceptable, whether it is single or double breasted.
Dont forget the pockets:
Pockets also play prime importance, as square pocket are best suited for White linen or cotton. Prime important thing is color, some gentlemen look dashing with a red or burgundy one, while for some black and white is perfect however never try to copy style of others as Midnight blue tuxedos are making a comeback but we dont think it suits for all. White or cream dinner jackets shall only be worn between memorial and labor days they are not appropriate for cold weather falls and winters.
Accessories is a must:
Accessories could play a cool role in beautifying our tuxedo in great manner. Shoes also play a major role in formal look as court shoes good for formal attire (white-tie). They are not appropriate for semi formal attire (black-tie). Leather shoes are acceptable for black tie if they are with lace not good in loafer form. If you are opting for calf skin shoes they must be well polished and free of medallions and brogues. Many say that a specially polished black cap toe is the ideal shoe to wear with a tuxedo.
Here at MensItaly we offer you a variety of tuxedo in proper matching styles as 2-Button Tuxedo with Microfiber Formal Shirt, Fusion Fullback Vest, and Striped Windsor Tie 2-Button Tuxedo with Tango Fullback Vest and Bow Tie, 3-Button Tuxedo with Spectrum Fullback Vest and Windsor Tie, 4-Button Tuxedo with Aries Fullback Vest and Windsor Tie along with matching accessories and trousers.
Use these tips too:
Always go for self-tied bow tie because long ties and pre-tied bow ties are perhaps the highest offense to black tie. Sometimes they may offer offensive looks.
Try to avoid rental tuxedos because sometimes they may offer same pieces in different name, which can make you a matter of laugh.
Choice of fabric is quite important so match the fabric of bow tie to that of lapels and stripe on pants. As velvet bow tie can look great against satin or grosgrain lapels and pant stripes.
If you are opting for a single breasted jacket then to hide fabric of shirt go for cummerbund along with waistcoat or vest .
Choice of button is also quite important as jackets should only have one button when in single breasted form.