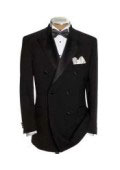 A tuxedo is also called dinner suit or dinner jacket is a formal evening suit made of primarily by satin jackets and buttons and a similar stripe along the out seam of the trousers. The suit is typically black or midnight blue depending on choice of wear and commonly worn with a formal shirt, shoes and other accessories, most traditionally in the form with black tie or dress code. Tuxedo in the context of menswear originated in the US around 1888.
How to wear a Tuxedo?  Good Question itself.
This is a very simple question, right?  The look of a Tuxedo is quite simple; some black here, some white there.  But to appropriately and properly pull it off there are numerous variables that deserve consideration. You have to take care of many things when wearing a Tuxedo Jacket . Its very easy to wear a Tuxedo jacket but its very difficult to carry yourself. Decisions have to be made on everything from shoes to collars.
What Tuxedo Jackets You Can Choose?
You can choose to wear Tuxedo jacket which looks classic and gives gentleman look. The black tie tuxedo may be the norm when it comes to the majority of formal events, in recent years it has broken all the stiff barriers and demonstrated itself to be a versatile wardrobe show piece. Capable of working equally well in a more casual setting, the tuxedo jacket is now as comfortable paired with sleek satin striped trousers as it is with well-fitting with denim.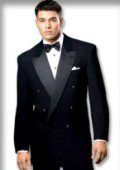 Tuxedo is a popular wearing in America. The most popular uses of the tuxedo in North America at present are for formal weddings, formal proms and formal nights on cruises. Tuxedos are also often worn by male musicians at formal concerts. In these circumstances the tuxedo's styling and accessories are most commonly chosen according to the wearer's tastes. There are many inquiries on how to wear a tuxedo . Some of the rules are:
1. If you are wearing a single breasted jacket a cummerbund, waistcoat or vest shall be worn. The primary concern is to conceal the bit of white shirting fabric between your jacket button and waistband.
2.  Tuxedo/dinner jackets should only have one button when in single breasted form.
3.  A tuxedo jacket/dinner jacket shall never have notch lapels.  They are not formal enough for a proper tuxedo.  Peak lapels and shawl collars are the only acceptable options, whether single or double breasted.
4.  You shall wear a pocket square.  White linen or cotton is ideal.  Some gentlemen look dashing with a red or burgundy one.
5.  You shall not match one's tuxedo or associated accessories with the attire of his date.  It does not matter what your date says. Thou is meant to look stunning in one's own right, changing one's attire to suit her will only detract from the integrity of one's tuxedo.
6.  Midnight blue tuxedos are making a comeback means perfect.
7.  A pleated front shirt is not necessary.  Although they are more formal and traditional, often times a man looks best in a button up shirt with a classic spread collar shirt and French cuffs.
8.  Patent leather shoes are acceptable for black tie, however, they shall be in lace up and not loafer form.
9.  If you choose for calf skin shoes, they are to be well polished and free of brogues and medallions.  Many say that a well polished black cap toe is the ideal shoe to wear with a tuxedo.
Where You Can Get Tuxedo Jackets
As Tuxedo Jackets are very popular here you don't require for that. You will easily get Tuxedo Jackets online as well as in a good shop. These jackets are not only smooth, silky or colorful but stylish too.