Linen is one of those timeless fabrics that transcends the test of time, and morphs in to an eternal fashion statement. When you wear a linen blazer, you immediately exude a sense of class and elegance that enable you to stand apart from the rest of the crowd. Conventionally, blazers are made of heavy materials and are seasonal clothing. Linen is light, breathable and you can look good in them through out the year. Linen blazers have another advantage. They are available in a variety of colors and patterns and designs and you can pull off a formal or a semi formal, and sometimes even a casual look in them. It is not possible to experiment to this extent with other materials. You can find out How to Rock a Linen Blazer for Men this season, so that you can step out of your house in style.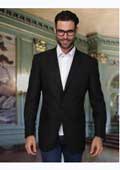 Choice of Material and Versatility
We are talking about linen blazers; hence there is no doubt about the material of the blazer. But the point of this discussion is to point out common mistake that people tend to make when they are wearing a linen blazer. Linen on linen is something that you should actively try to avoid wearing because the two similar materials will clash with each other and give your attire an unattractive look. Balance your linen blazer by wearing a simple cotton shirt underneath, whether you are wearing a t-shirt or a dress shirt. Versatility is something that you need not worry about, because your linen blazer will give you unparalleled service. You can wear the same blazer with a dress shirt or a t-shirt and a pair of jeans, and it also appropriate to wear one with your dress pants if your office has a formal dress code. Because of the lightness and breathable nature of your blazer, you can wear it all year round. One thing that you have to keep in mind when wearing a linen blazer is that, it should be well-pressed and ironed. Although the natural wrinkles and lined of linen look pretty attractive, a well-pressed suit is beyond comparison.
Linen blazers: Colors and Accessories
Linen blazers are available in colors that you would normally not associate with blazers. Along with the serious and conventional colors like black, blue, white and gray, you linen blazer is also made in fun colors like pink, purple, dark green, light blue, ivory and brown. You can wear these with striped shirts and suede shoes to add a bit of modernity to your attire. If you want to dress traditionally, then too you can wear you linen blazer with dress pants, a dress shirt and dress shoes. Therefore, once you understand How to Rock a Linen Blazer for Men, you can easily make yourself look youthful, fashion-forward and appealing, while making minimum effort.