A tuxedo is classic men's formal wear. If you know How To Get Killer Looks Through Tuxedo, you can ensure that you are the centre of attention at every party. Once you have mastered the art of wearing a navy tuxedo, you can be one of the few men who are able to look like movie stars when they are wearing a tuxedo. When you are attending a formal event, you may lease a tuxedo, or buy one, and for that you have to keep several things in mind. A tuxedo in itself will not be able to give you the killer looks that you so desire. You have to dress properly and wear the right accessories with your tuxedo, so that you look like, to use a very clichéd term, the 'complete man.'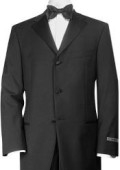 Picking your Tuxedo
When you have decided to wear a tuxedo, try to buy a tux instead of renting one. You can hardly make any alterations with a rental tuxedo. Buying will also make you feel comfortable in your clothes and fit better. Confidence is the most attractive thing about a man, and a tuxedo that you know is your own is bound to boost your confidence. Black is the ultimate color when it comes to tuxedos. For the past few years, men have been rocking the dark blue or steel gray tuxedo, but you have to be very careful and confident when digressing from the black. There are a number of other things that you have to keep in mind when you are trying to look exceptionally attractive in your tuxedo.
Accessorizing your Tuxedo with All the Right Elements
If you are trying to find out How to Get Killer Look Through Tuxedo, you must be attending an event that requires you to look your formal best. As mentioned before, you cannot expect the tuxedo itself to make you look like a million bucks. You have to ensure that the rest of the components are impeccable. First rule; always wear a bow-tie with your wedding tuxedo. A large bowtie that grabs attention is never too much, and is indeed almost advisable. When it comes to black blazers, make sure that your trousers are wells supported, never with a belt, but with classic suspenders. Also, wear black socks with your shoes, because a tuxedo is not the attire which allows your room for funky experiment. A crisp white shirt, a white pocket handkerchief and shiny polished black dress shoes are all you need to complete the look. As you can see, when it comes to pulling off a tuxedo look that makes you look and feel the best, classic is the way to go.