As the cold winds start to drift one thinks about the warmth of a new winter coat for men . There are many options in the market to help you make yourself cosy in the harsh winter, but please don't wear your ski parka while going to the office or even out in the town. You should be choosing a conventional coat that goes halfway between your thigh and knees. If you are here for the advice on how to find a winter coat, that means you know the distinction between a jacket and a coat: a jacket should ideally rest at your hips and helps little to keep you warm and it also can't be worn on a thick sweater or blazer, whereas a coat is made of a thick, natural fabric and always keep you warm.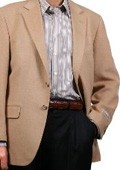 So, to make yourself warm, when the temperatures drops down, follow these tips on how to find a winter coat!
Features of a Quality Winter coat:
A good winter coat should be warm, perfect fit you, and give you a great look.
Fabric:  If you want to wear this winter coat for years, make sure you get one that is made out of 100% wool. Also see for it that it weighs more than 4 pounds (for average-sized men). Looking at the fact that, heavier coats always last longer as its fabric is more durable.
Some fabrics look and feel nice, soft, and warm but they may wear on the collar and cuffs. And also, they may have a double price of a coat for nearly no advantage (in the way they look and warmth they give). These days looking at the quality of most wool jacket fabrics, they often feel as soft as all. I find a nice conciliation is a wool blend – my own winter coat is about 10% wool.
Sleeves: The Winter coat sleeves must completely cover your suit sleeves, and also the shirt cuff, at the same time it should reach a little more down. If designed so, you will feel completely warm on your wrists once you wear gloves on it.
Length: Traditionally, winter coats use to reach near to the ankles, quite long-reaching garments. Such full-length winter coats are often the choice for veteran gentlemen as they do compliment a broad range of figures.
Looking at the winter:
For men, the classic looking winter wear is the best option. Enough casual for the weekend and sufficiently refined for the workdays, a smooth black, navy or grey winter coat is a must for a unified winter wardrobe. A long wool winter coat is likewise a must for the businessman.
Choosing a best winter coat is your aim. One that suits your looks and makes you warm to deal with the chill is what the must is.