Well this article is about whether you have it or not, you want to have one. Selecting right motorcycle jacket is essential in so many ways. First, A motorcycle jacket provides protection (obviously a traditional thinking) when riding. But now a days this is a fashion sense. But obviously safety is the feature we can't avoid off. As rider may go through crashes or simply may fall while driving. So jackets are one which cannot be avoided neither as a fashion nor as a safety tool while riding.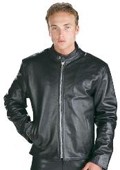 Here we shall guide you and will help you to chose a right mens jacket . There are different protection levels as we shall discuss and most essentially the trend you could go. There may be some special features which are slightly different than ordinary jackets. Starting from materials and types of pockets and vents for air, all of such things are essential to understand and consider during the buying one.
Selecting the Best Jacket to ride
Just to start with a fact that you won't get cheap Motorcycle jackets for sure and you have to shed out some money. Branded jackets are prepared with costly materials and and are ensured to have proper protection to provide safety for the rider.
How much protection is you needed?
Well, safety is the first thing to be ensured. Most of the jackets are padded with the high quality material especially on shoulders, chests and elbows. Kevlar and refined plastic are used for this purpose. While buying a jacket, if it fits your body well due to the material used inside the jacket and its comfortable for you as you need to spend time and obviously you would love to be comfortable while doing it.
Premium motorcycle jacket have airbag system. Just like the airbag system in cars, jackets are filled with carbon dioxide which is stored in one of cartridge which is triggered by an accident. Once used you need to change that cartridge, which makes these jackets costlier.
Now we discuss the heart of the jacket:
You are right guys. We gonna discuss the material of the jacket. Leather is one of the most popular for its sexy and silky look. It is good for winters but in summers it must have vents because passing of air is not possible through the material. Also it provide good safety against accidents. Polyester and nylon are and also a good option due to its light weight. It is cool in summer but in winter it won't be a very good option. Also due to thin material they must be supported with some other lining material.
Now next we move to Denim which is excellent in terms of durability due to its hard material. Also its cool due to the fact that air may pass out from its fabric. Also due to its rough and tough looks it is helpful in accidents too.
Now a days you may find some combination of these fabrics to make you comfortable in different seasons including venting options. Also polishing and other techniques are required to keep them waterproof during rainy season and giving the cool and sporty looks.
Last chips:
We have an excellent collection with different material, sizing and friendly pockets collection. Come and have your own way to ride.