Home > Articles > How Much Should A Leather Jacket Cost?
How Much Should A Leather Jacket Cost?
Many a times, when you go for shopping, and you like an item, but are absolutely unsure of whether it is priced right, does the price is according to the actual value or not. Questions like how much should a leather jacket cost, how to identify the quality of good leather and many more of this sort. Read this article and find the answers to these questions.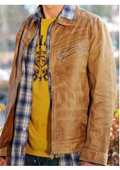 A leather jacket is a must have for every wardrobe, be it a man's or woman's. These leather jackets are a great apparel item to express your personal style and exude confidence, smartness. The best aspect of these leather jackets is that they never go out of style. Nothing is going to be wrong about adopting this durable, warm, classic and timeless piece. Investment in these leather jackets is usually once in a lifetime and they can be used for years together without getting spoilt, only if you maintain your body size. In fact, the leather jacket is such that the beauty of it gets more charm added once it gets old.
Purchasing the right fit and quality is a great one time investment. But from where should you buy a leather jacket that is going to fulfil all these important aspects, give you value for your money? mensitaly is the place that you need to shop from. Check their website www.mensitaly.com and the collection will speak for itself. With the prices they offer, you will not have to wonder how much should a leather jacket cost, or whether the quality is genuine, or anything of this sort, you can just select the design and fit, and trust this brand with your close eyes!
First and foremost, if you really desire to buy a truly classic, exceptional leather jacket, then you will have to be willing to shell a little extra money. Imagine that there has been this piece of that apparel that you have always wanted, and now it is right in front of your eyes, would you mind spending the little extra amount? Definitely not! Purchasing it from sale might cost you lesser, but the sale cannot guarantee a great fit always. Sales also have a lot of rejected stuff, therefore it would not be advisable to depend entirely on sale, unless it is a rare exceptional fortunate sale for you.
When you are considering buying a leather jacket, then going for classic styles would be ideal. Some of these to mention would be bomber, blazer, mens suit jackets and the zip up jacket style. There are also quite a lot of varieties in the lengths- like the waist length, hip length, or the trench coat kind. The latter would be very versatile and provide you with a sleek and slimming fit on your figure. There is a wide range of colors to choose from like black and brown. The shades from light to dark in these colors are going to be the best option. The varieties of textures that are available for your choice are buttery soft, and thin to thick in thickness. Suede is also another kind of leather that looks impressive, but needs a little extra care.