Home > Articles > Where to Get Exclusive Tuxedos to Complete Your Looks
Where to Get Exclusive Tuxedos to Complete Your Looks
The feeling of grace, class and majesty of sporting a tuxedo is too incomparable and unmatched. There is something in the look and the feel of a tuxedo that can make any man look charming, noticeable, appealing and very special. Perhaps it is the tradition of sporting a tux on special occasions which brings out the specialty of that ensemble. If you are looking to buy a brand new tuxedo then rest assured that you have come to the right place! Mensitaly.com has a variety of tuxedos that almost look customized to each and everyone's needs. Make your occasion extra special by sporting a tuxedo and making people's heads turn towards you! You would surely be the show stealer and get all the attention. Nowhere can you find brand new exquisite tuxedos for very reasonable prices than in here!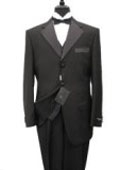 3 Accessories That Should Be Compulsorily Worn With Tuxedos
Black Bow tie: Choose a black bow tie for the tuxedo as it is an excellent partner for it. Wear a self tied bow tie and look like a fashion- forward charmer. Bowties can be worn in various styles like the butterfly, semi- butterfly, pointed or straight end. There is an aesthetic excellence in bowties worn with tuxedos and you are definitely the man to bring it to light!

Classic Black Oxfords: Classic black oxford shoes look incredible with tuxedos as they complement the tux's elegance, class and grace perfectly well. You can wear any kinds of Oxfords technically like the plain type, wingtips, cap toes and so on. A black oxford lace up would take care of all the accessorizing that you might ever need for a tuxedo.

Plain White Pocket Square: A pocket square is technically optional, but wearing one would add to the majesty of the tuxedo. It increases the formality of the suit and adds a dash of grace and elegance to it. Pocket squares are timeless pieces of accessories and wearing a plain one can make you look ten times classier! There are numerous folds that you can do on pocket squares. One point square fold and flat square fold look amazing for a tuxedo and they add to the majesty of the look!
Accessories like wrist watches, finger rings and belts can also be sported which complete the outfit and give it a finished look. So get shopping for your tuxedo and wear the enthralling outfit for your special day!