Home > Articles > Proper Etiquette for Mens Overcoat
Proper Etiquette for Mens Overcoat
Mens Overcoat - Fashionable and professional suit
One of the traditional pieces of clothing that has a particular label and one which is still professional and fashionable is men's overcoat. Choosing an overcoat can be very tricky; on the other hand understanding its etiquettes can be even trickier. This piece of writing will make those etiquettes simple to follow.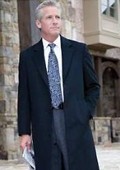 Consider the factors while buying a mens overcoat
Typically made from cashmere, leather or wool fabrics, they are available in different styles, patterns and colors. With that said, men usually prefer traditional black, navy blue, charcoal, brown or grey colored overcoats. According to the style, you can choose the length for your overcoat. Some men prefer short coats while others prefer long coats that come up to their knees. To begin with the considerations that you should be making while purchasing an overcoat, the following factors takes account of and it includes
Length
Design
Color
Fabric
Fit
Quality
Often cut on a straight line to accommodate warmer clothing, overcoat is mid-shin or ankle length. Many men leave that bottom button of their suit jackets and blazers undone, with regards to overcoats, they always have that chaos whether the same rule applies to overcoat or not. Let's get that cleared here!
Unlike with that waistcoat buttons, one should button up his coat. A lot of the plackets on overcoats are enclosed with a coating of material and even if they are not, one should make sure that they are keeping out the cold the best way possible thereby limiting your exposure to the external elements.
With all that said the best idea with regard to buy an overcoat would be getting it custom-tailored.