Home > Articles > Design and Style are the USPs of Gator Skin Shoes
Design and Style are the USPs of Gator Skin Shoes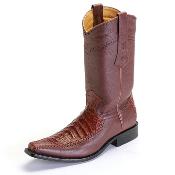 Gator skin shoes and fashion are two sides of the same coin. So whether it is about women's fashion or men's, they are made out of gator hide and are popular with both the genders. These are one of the most sought after accessories for men and women alike. If you are looking forward to make a statement with your attire then this pair of shoe is an absolute. In the world of men's fashion the gator shoes are popular for their designs, patterns and durability. Yes, you read it right; one of the basic reasons why they are so popular is because of their durability.
The alligators, once upon a time, were endangered species. But now they are found amply in the wild. Thus, their skins are allowed to be used to make foot wears and other luxury items. The availability of such shoes were once limited to certain parts of the world. But nowadays these are available all over the world. Another reason why purchasing they have become easier is the presence and growth of the internet. One can browse for online stores to purchase them. Some of the best known brands around the world offer this footwear for their patrons. There are certain aspects that one should take care of before making the purchase. Firstly, make sure that they are not fake ones. There are several organizations that offer fake foot wears. Secondly, it should be kept in mind that these are expensive. Though these are offered at best industry prices and along with discounts on the internet, yet these are quite costly.
In spite of the fact that these make an expensive buy, they are quite in demand. One of the USP of these shoes are they can be teamed with any kinds of attires. Thus, whether you are dressing up for a casual party or a formal one, these can be perfect accessories with your apparels. There are several styles and designs that are manufactured for office purposes only. Another important fact about these is that these are often hand stitched. This makes the footwear exclusive and expensive.
No two shoes made out of gator skin are similar. Thus, your pair will always be unique if you are purchasing one. These are also available in various sizes, designs, colors and patterns. In spite of being resilient these are comfortable to use. There is a softness and suppleness to these shoes. In addition to these, the alligator hide shoes are available for both men and women and in different varieties as well. The boots made out of gator hide are also popular. When manufactured for women these are made available in different kind of heels. Crux of the story is that gator skin shoes are famed for their style and design and if you purchase one, chances are that would last you lifelong!