Home > Articles > Suits of Denim gives you a New Look
Suits of Denim gives you a New Look
The Various Styles In A Denim Suit
There are different types of denim suits available. They can classic styled or trendy styled. You can make use of this opportunity to mix and match different styles and create a new and unique combination of your own. This means you can make sure that you have a unique blend of both the traditional style as well as the modern look that will give you that contemporary edge. You can even get the pants in denim that will give you a complete the denim look. Go for the style that bodes well with your personal taste and the look that you want to create.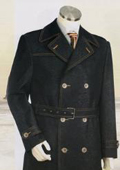 Nail The Fit
The most important aspect when looking for a denim suit is the size. If you do not have the right size for yourself then you can be stuck with a suit that is too tight for you or too loose. This will be even more difficult to manage. A tight fitting pant can ruin the day for you. In the same manner if it is too loose for you will make you look shabby and bulky. Therefore you have to make sure that you have the right measurement before you order and this will help you to get the right one that fits you. There is a very detailed size chart on this website that can help you determine the exact size for your shirt, trouser and jacket. There are guidelines present in the website which tell you how to take your own measurements, compare them with the size chart and conclude your exact size. Nailing the size is as easy as that!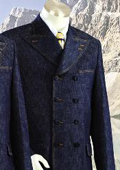 Choice Of Colors
There are different choices in colors that you can choose from. You can have your traditional blue denim suit or you can even go for the black one that is made in denim. Explore different colors to create different looks that can come across as dashing and trendy. You can complete your attire with a tie or other such accessory that you wish and you would soon be on your way to being the best dressed person at the party.