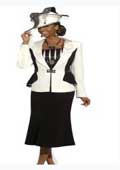 Every woman would like to be as fashionable as possible in their dressing and in all possible ways, be it the gym, the casual summer dress, a big occasion or even decorating their houses! Yet when women go to the office, most stick to a basic, boring kind of dressing sense. How can you revamp yourself and your office wardrobe? Apart from having the right dressing sense, one also needs to shop from a place where you will get something that matches with the right dressing sense. Also on the other hand, just getting the right cuts and styles isn't enough, factors like quality and price factor are equally important to be considered. So if you are wondering where to buy women's suits, where all of these aspects will be balanced well, then you must go for MensITALY. This brand has years of experience in dressing men perfectly, they have a long list of faithful customers; therefore their online shopping portal www.mensitaly.com is worth a try!
A womens suit can be made fashionable and reinvented in an exciting manner. Every decade is characterized with certain changes in all kinds of clothing, be it the night wear, the casual outfit or their formal wear. It is also common for these trends to reappear in between. But how can you carry out this suit without making it look like an obsolete and dull fashion trend? The office is a place of formality where you are supposed to dress up in the same way, and also reflect your power, and confidence. Wearing suits not only reflects an authoritative presence, but also exudes elegance and charm. This creates such a power that will give you a reputable position in the corporate world. But you do not need to break the rules to be fashionable. You can be fashionable in a subtle way, in those formal suits only!
You can try a single breasted jacket which can be easily paired with a skirt or a trouser. When picking up colors, chose those which are neutral so that they are flexible in pairing with other ensemble of your clothing. You can go for a womens suit which has a long line collar, with two slated flap pockets, giving it the edge of a modern design. If you want to be more feminine, then you can accessorise your formal attire with simple minimal jewelry. And you will be chic and ruling the corporate world with your fashion sense as well in no time!