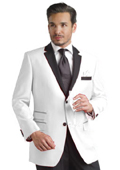 Wedding being the most important day of your life, everybody wish to look the best possible. Grooms suits do have some standards to be followed on that particular day. A nice expensive suit with shiny black shoes is a normal outfit. But if the venue happens to be a sandy beach and that also in the morning, then you need to take some special care while dressing. In this article we are going to discuss what could be a better wear for the groom for a morning beach wedding?
Beach weddings are fabulous! Feel the sea breeze and the full of sunlight. Has a plan to get married in the morning on a sunny sandy beach? You are the lucky groom, I will say! You are going to walk right besides your gorgeous wife, all stress free, on an aisle of sand on your wedding day.
Important Considerations:
Now that you said it's a beach wedding, there are numerous things considered before planning your outfit. Very First, are you going to walk on sand? If yes, then foot wear must be casual. Second, what kind of temperature is expected? Is it too hot? This will help us choose a perfect fabric type. And lastly, do you have a plan of having a casual feel to the ceremony? Beach marriages generally have! Then you can go for some casual wear.
Some cool attire options for the groom:
Want to look stylish? Here are some cool ideas! Starting with a lightweight white-on-white linen suit up to the most colourful dress with a bow on!
If the weather is too hot, I will suggest dropping the idea of wearing jacket. To go with the surrounding you can choose blue colour, this will prove to be a great choice. Or otherwise go for lighter colours than the dark ones.
Use Sea inspired accessories like starfish boutonnieres, bright tropical flowers or nautical ribbons will help you merge in the atmosphere.
No shoes or an ideal colour floaters or sandals will also do. On the entire sandy floor, no one expects you to wear those all trendy black shiny shoes.
Sunscreen is a must:
On a sunny, bright day everything ends up looking bright and shiny only except your face. On a sunny, bright day everything ends up looking bright and shiny only except your face. You will have to take special efforts so that you don't end up looking like a lobster.
Apply a thin layer of sunscreen lotion before anything else, so that Sun does not affect your looks.
Did I forgot to mention? You are a lucky chap! Enjoy your beach wedding!!!
Two Way Matches