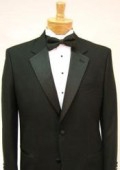 As all of you know, a tuxedo is considered the pinnacle of the formal wear of men, but always choosing the right one and wearing it with elan, carrying it with the right attitude does become a tough task for many. If you are one of these men, then do not feel alone as this dilemma is faced by many men. In order to know how to wear a tuxedo, the guidelines are basic. And one of the most important aspects is to buy a quality tuxedo that fits you well. To start from the first, you need to buy a tuxedo from a well reputed brand; a true brand worth its name is going to be MensITALY. This is a well known brand having many years of expertise in men's professional and formal clothing. Anything you want can be found here, on their website, www.mensitaly.com.
As it is correctly and popularly known that tuxedos are usually worn for all kinds of formal events, weddings, evening reception, dinner parties or even for ball events like ballet or opera. With tuxedo, words like class, elite, aristocracy are synonymous to it. Check your invitation and it will have the requirement of dressing up in a tux mentioned. If it has the mention of a black tie, then surely this is a clear indication of your requirement to dress up in a tuxedo. If you already do not have a tuxedo, you might be faced with the dilemma of whether to buy it or rent it. Buying a tux will be more expensive, but it will also turn out to be more cost effective in the long run if you need to wear it more than once or twice. Also a tux that you buy is going to be of much more better fitting than the one you rent. So it advised to invest in a well fitting, good quality tuxedo once in your life time at least.
If you are in the plans to buy a new suit, then it is wise to opt for a traditional black classic single breasted suit with peaked lapels. This is one look that will always be considered stylish and will serve you for many years to come. This look in company with a white dress shirt and black tie will complete your attire. When it comes to accessories like tie, make sure to select a black bow tie as this is the best option for dressing up for a formal event. This gives an extra touch of elegance. You can also buy some pre tied superior quality bow ties as most people fail to tie it in the right way on their own. This can be bought from www.mensitaly.com. To bring out the extra finesse, make sure that your that the fabric of tie is the same as that of your suit lapels, for instance silk with silk, or velvet with velvet. This rule applies to cummerbunds as well, in case you chose to wear one. Therefore now you know how to wear a Mens tux, you are ready to rock the party!