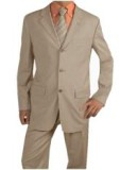 Summer……the hot weather, cold ice cream and 'AC feel like luxury', season. Only season, when the fashion buzzard also feels repellence, for too many clothes! But in certain circumstances, despite of the weather conditions you will have to wear suits. This hot weather is a particularly painful time for men as they have to wear a suite for their office every day. Let's discuss some possible great options that will help you in choosing a suit for summer.
Planning your wardrobe for the entire year is your goal? Then don't forget to have some summer suits (?) in your collection. One, that will solely be dedicated for your summer season. Despite of the season and weather, what is inside the suit will be of great importance, and that will decide if you can wear that suit in the summer or not.
My best suggestion, as the summer approaches, is, get at least one decent two piece that can become your warm day's companion, to move around with you. To be more specific, a lightweight, loose-weave, half-lined, well-cut, mixed fabric suit will be a great choice. It never means that in summer your suit should not be the fitted one.
Following things needs to be looked for keenly:
Colour: Combining different colours is a must for maintaining a harmony throughout your outfit. Dark colour attracts and stores heat, making you most uncomfortable. Light colour is an obvious choice for summer days.
Fabric: Cotton, Linen, lightweight wools and silk blends everything will work great. Linen will be the best choice though. Light weight woollen suits are the ideal choice for these summer days. Those suites that are tailored with open-weave fabrics are also comfortable.
Cut: Lightest is the best. Single-breasted will be great! Only remember summer is not an excuse for scruffy.
Lining: unless and until your suit seriously needs structure, adapt an unlined approach as a normal. Lining will everything more uncomfortable and hotter.
Things that you should not try in summer:
If you are above 21, this point should not be on the table for discussion. No short suits at all.
At work you just don't even think of wearing short sleeves.
One important thing is, the heat is going to play its part and at some point in the day you will be tempted to take off your jacket. The main reason why all the time your shirt must be well fitted. No over or under fitted shirts please!
Here are a few tips that will help you dress for summer. Combine your lighter jackets with varied colours of suit pants. You can also try some light coloured suit pants one like light brown or beige. Plain white is the all time favourite; it will also help you in enhancing your skin colour. Low cut ankle socks is a great choice. Try using a bright pocket square to catch the exact summer look.
Follow these guidelines and beat the heat with the cool factor at perfect place.