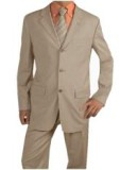 As soon as one hears the word summer, surely the first thing that comes up to your mind is anything but a suit. But summer being such a time which is quite full of various events like cruisers, weddings, dates to attend, graduations and many other among these categories. So all these occasions demand the need of some classy summer suits in your wardrobe. In order to have this answer in your mind to the question of how to suit up for summer, you need to start shopping from the right place. Most people think that shopping from a place where you can get stuff in cheap price is enough. But if you desire to be fashionable, respected and admired for your dressing sense, then you will have to work a little harder for this purpose. So to get started for the right shopping place techniques, you must try the online shopping portal of www.mensitaly.com. This is website belonging to MensITALY, that is a popular brand in the fashion circuit for men, for what quality and latest styles they have been providing for all these years.
Summer brings up a very bright and warm image in our minds, and therefore it would only be right to wear a light colred suit for summers and opt of the classic black and blue suits. For summers you must consider suits like that of linen, poplin or seersucker. Fabrics of these kind are perfect for summers as they are light and very comfortable. Plus they last all day long. Some of these fabrics are also wrinkle free like poplin or fuss free like seersucker, therefore they last you all day long. What more is worth admiring of these fabrics for men, especially is that they are quite low maintenance. And wouldn't that be such a dream come true for any man around? In spite of these fabrics, if you desire to go for wool, then you must go for a very light version of wool. The nature of such a wool fabric is that it has a lighter weave, as in a count of 100 threads rather than 200.
Once the fabric is decided, you can be very tension free as that is more than half the work done, and solves a major part of the riddle of how to suit up for prom suits . All you need to decide now is the style of suit you desire to opt for. The styles available in these are just like the ones available in all other kinds of suits, that is single breasted, double breasted or three piece suit. And voila, you are ready to shine in the summers!