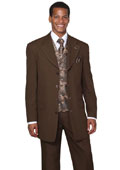 When the summer comes around, men across the world start worrying how to remain comfortable and fashionable in these months. The secret to rule the peer circle with your fashion sense is to wear the sport coats. With an affordable sport coat you can not only appear to be traditional but also can look professional. And all this without having a stiff collared shirt and a stuffy tapas bar! So from where to get these super fashionable sport coats? No other place but the online shopping portal of MensITALY, www.mensitaly.com. This brand has years of expertise and experience in mens apparel. Shopping from here is not going to be any kind of trouble or mistake ever. Try it to see it for yourself!
And now getting on to most importantly how to choose a sportcoat? As sport coats meant for the warm or hot weather like that of spring and summer, the fabric is the key to the sport coat and its main function. So the sport coat you select or are considering to buy should be of materials like linen, poplin or seersucker. These materials are perfect for summers due to their lightness and breathable nature. Linen has always been considered quite a favourite for casual wear, and its wrinkling nature is also a way to create beauty in the clothes. When it comes to seersucker coats, you are creating a very interesting textured overall look. This is a must to be tried for all the fashion enthusiasts. Poplin material sport coats can be given a try if you want a more formal look. This fabric is made of a mixture and in such a way that it is naturally wrinkle free.
The factor that works best for sport coats is that the trend of layering is very much in nowadays. You can also try this layering technique and make it work for you. Layering your clothing with a sport coat also enables to hide any kind of problem areas on your body. For instance, a bulging stomach or a poor posture. Wearing a nice fitting blazer not only makes you look smart in an instant but also improves your posture to a large extent. Apart from the fabric, what you have to notice is the structuring of the coat. For a sport coat piece to be well structured, it has to have a canvas interlining and padding on the shoulder. Only this will give you a tailored and dressy look, like the suit is just made for you! You could also look for more details like piped pockets, with or without the flaps, lining, constructed lapels, corszo or bone buttons. If you are considering a sport coat for more of a casual setting, then you can easily pass by these little detailing. No matter which sport coat you chose, make sure to rock it with your personality!