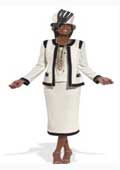 Womens suits are always interesting. There is no exception to it as they are smart, adjustable, and they just give them an amazing authoritative presence. They not only define the event where they are headed to, but also define the personality of the wearer. Gone are the days when they were worn just as an office wear and meetings, now they can be worn to lunch, dinner, parties, visiting, dancing and special events as well. What was being considered as old fashioned has become new again. The suits of women have been popular for quite a number of years, that it is difficult to point out when they became a focus of dress savvy women. Through out the era of the 60s these suits have defined the business women perfectly as strong, leader, confident and charming. The same trend continued in the 70s and the 80s, and soon these suits became the new comfortable attire for women.
The amazing aspect is that these suits haven't gone out of trend yet, but How to Buy a Flattering Womens church Suit seems one question that bothers many women. The key to this mystery lies in the fact that the shopping of such flattering suits depends on the right place of shopping. A flattering suit would be one which has good quality and a good fit basically. And you can get something of this sort only from a brand which is trustworthy enough like MensITALY. The best new aspect of this brand is that now they even have an online shopping portal, www.mensitaly.com through which they are reaching customers all throughout the world. The collection is vast enough for you to find something good enough for yourself.
The business suits as women know them have a lot of dimensions and uses. In fact that is the beauty of these suits. It can be presented in so many ways and still come out as the best form of dressing. Any women you see walking down on the road in either a pant suit, a skirt suit or even a dress suit exudes such confidence that goes well with everything. Just getting the answer to How to Buy a Flattering Womens Suit isn't enough. You must also know the basics of how to make a normal and simple suit spruce up with little extra details like a nice blouse, a slim belt, and definitely the jacket! When it comes to a dress suit, the A line dress works best with it. The jacket should be such that it is versatile enough to be worn with various kinds of ensembles. If you keep following these little tips and come up with your ideas as well, in no time you will start to rule the corporate fashion circuits in no time.