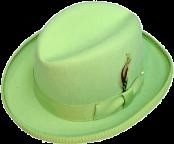 The most stylish place to be is the Derby European style. They have all sorts of new styles and new hats. The hats oh! The hats that's a whole new world waiting for us to explore. Well you don't have to go too far because our online store has a new collection of Derby Hats for Men . They are all perfect and in all new styles that keep changing every day. We also keep changing our collection with new additions all the time. So just come online and get your style statement. Your new derby hat will surely turn heads.
Style, color – A number of choices
Hats have been in style for a very long time now. Well they were mainly made for practical reasons before but now they add style to your look. These hats are for all kinds of weather conditions like the sunny day where you match your cool light look with a derby black colored hat giving it that elegance you want. A floral shirt with colorful derby hat during those warm days will be just perfect for a statement. Hats change your whole look. Wear a casual pant with het and you will look semi-formal. Hats make you more stylish and classy. The hats come in different sizes and shapes. We have the round ones and the square shaped ones. They come in all different colors and all different designs. We have the cowboy derby hats too. These hats absolutely go with anything. They come in different colors like beige, chocolate, brown and a host of other colors. They really are too good to be true. We have other sections on our online store, like men's designer suits and pants and the accessories section. We also have the men's shoes section. So you can select from a number of new choices. You can get that perfect wardrobe form our collection. The derby hats also come with different designs on them like the animal and the bird designs. We also have the plain simple ones. So hurry today and get your perfect look.