Each pair has its own style and uniqueness that attracts customers. At MensItaly you will get every variety of david eden alligator shoes at the perfect prices. The specialty of these shoes is its designs that are wildlife oriented. You will get patchwork, printed, as well as original scaly designs of the reptiles. The shoes are sleek and have tapered toes that extend to get the lifelike appearance of the animals. The soles are perfectly made to offer firm grip and the linings give great comfort to the wearers.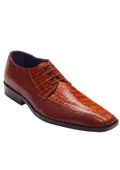 Apart from the shoes collection, you will get loafers, slip-on, lace-ups, cowboy boots and also the clubbing boots and trendy styles to walk the ramp. The high-ankles and boots that rise up to the knees are extremely fashionable and trendy. Look into the spring collection and fall winter collection of David Eden to rearrange your closet with the best of shoes and boots from David Eden.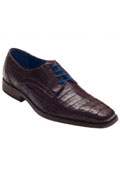 The rough and tough look of david Eden has made all men go crazy for these exclusive shoes. Visit MensItaly to collect a few pairs of these unique shoes and boots from David Eden. There are belts, wallets also from this brand. So dress up in style and establish your own style statement with david eden.