Home > Articles > Black and Red Tuxedo: A Great Color Combo
Black and Red Tuxedo: A Great Color Combo
There are certain important clothing styles that are up in the fashion world for ages and are still dominating the new fashion era. These are mainly the ones worn by men previously, but with changing time women are also showing good interest in these apparels and are flaunting these with style. A little bit of change here and little bit there and the result is incredible. Take a look at the suits that are up in the fashion world still now. You will even see the actors of today wearing the gorgeous looking suits from branded companies and enhancing their beauty more. Just like that, one can even see the Tuxedo suits and jackets that are gaining more and more increasing fan rate with the passing days. It is an undeniable fact that a man in tuxedo looks smart and elegant. Suitable for a social or business gathering they are sure to show off guy's masculinity. There is another great reason for people having a preference over this attire and it is because of its versatility and can be worn on any day.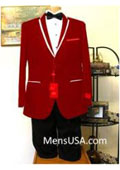 It is significant for every man to dress professionally at all times such that he can give the impression of being elegant, classy, stylish and gentlemanly. Especially when it comes to business executives, it is all the more important to create an image of successful businessman in his/her profession and only then can he get the trust of his/her customers. As far as attaining the professional look is concerned one should never compromise in getting that professional look. On this note, the only versatile and contemporary attire that enables you to get that versatile outlook are tuxedos.
Previously, tuxedos were available in only one color and the idea of mixing and matching did not exist. But now, you can see the fashion world experimenting with new styles and color combinations that is creating a huge havoc all over the world. The black and red tuxedo suit is a great styling statement for the macho man who wants nothing but style to speak for him.
You can easily mix and match the colors to create a new look. The color combination of black and red is surely a stunning choice and people with good sensible taste can surely opt for this styling statement. They can either choose the color of the shirt to be red or the tie and the rest can be black. It is a perfect party wear and with good positive result. You can check through our sites and take a look at the tuxedo suits that are up for sale.
Our website can come to your aide in case you are looking for the black and red tuxedo at cost effective ranges. As it is known by all that tuxedos need a little bit of investment, thus people usually try to find out ways where they can grab their choice able clothes at cost effective ranges. You can choose your desired item at affordable ranges. Keep a track of the important changes that are taking place so that you can place your order accordingly. We provide the customers with great discount rates so that they can easily order there desirable tuxedos without thinking much about the price range. These are surely going to provide to be quite beneficial for the customers. Just go through the site and check for the online brochures and order accordingly.