Home > Articles > The Banded Collar Shirts Bring out the Best in You
The Banded Collar Shirts Bring out the Best in You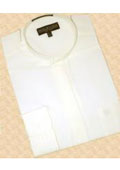 Men are very particular about the apparels that they wear. They always look for a standard outfit in which they will be smart and elegant. Most of the companies allow their employees to wear casual outfit on the Friday or Saturdays. Therefore, men look for a casual wear which is stylish and at the same time brings a professional look to the wearer. Generally, guys opt for casual t-shirt over jeans. But recently, men are found opting for banded collar shirts. It has become the recent trend. It is a casual wear and can be worn at different casual events. This outfit is simple but stylish in appearance and makes one look smart and elegant.
The banded collar shirts don't have any traditional fold-over collar but it comes with a band at the neck. These are highly sophisticated and are ideal for making a style statement. Men are fond of this collection because it provides great comfort to the wearer. This is a perfect wear for business party and other occasions. These are available in different colors and designs. Burgundy, black, white, ivory and green are the most sought after colors. One will get these collections in single color as well as in stripes or check prints. It comes in multiple sizes and one has to select their accurate size so that it fits well on the wearer. A well cut and perfect fit makes one look smart and stylish therefore it is advisable that you get the perfect size. The apparel gives best look when paired with jean or a trouser.
The best thing about these banded collar shirts is that the color doesn't fade faster unlike other types. One may not get this outfit easily from a traditional store. But these are available in online stores at reasonable price. Quality materials such as polyester and cotton are used. One can easily wear this shirt made out of cotton in summer or spring time as it keeps one cool and comfortable in extreme hot and humid climate. Both long sleeve and half sleeve types are available.
The material used is highly resistible which hardly wrinkles making it easier to maintain. One can easily send this shirt to the dry cleaners for cleaning and pressing service. Moreover, one can easily wash at home in a washing machine. One can wear this apparel frequently. This apparel is best for making a style statement. If you want to look different in the crowd then go ahead and take your pick.
Now, there are some colors that don't match every skin tone. So, you have to be careful about the colors. These days, some online stores provide custom made shirts. If you want a perfect fit and well cut banded collar shirts then it is best to opt for custom made shirt. You can tie the collar button or you may not as both styles look great.