Home > Articles > Purchasing a proper wool pea coat
Purchasing a proper wool pea coat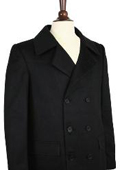 Wool pea coat is a great winter wear and it comes in different designs and colors. You can by these products at a reasonable price through Internet or directly from the manufacturers.
If you want to select a proper winter wear then go for a fashionable Wool pea coat. These are designed in a way that you can wear them at business parties or at wedding receptions. The natural fabric which is used in these coats keeps you warm and is it environment friendly. These apparels are much in use during winter and come in various designs and colors. These coats were worn by European sailors and also by American navies. These coats have metal or wooden buttons, fronts which are double breasted and broad lapels.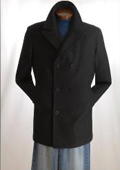 These coats come in black or navy blue color but with the help of modern tools and technologies now you can get these coats in various colors. Some of these coats come with fur in the body or on the collar. These can be shorter in length like the spring coats or can be long as the trench coat. These come in sophisticated designs which enhance your fashion statement during any occasion. Some of these are made from blended materials or from wool. A proper woolen coat will help you to keep warm during harsh winter but if it is blended with other materials like cotton then it will not suffice your purpose. Coats made from cashmere will keep you warm but these will be lighter than the woolen ones.
The Wool pea coat got its name from ?pijjekker? and this is a Dutch word. This was used for describing a blue cloth with nap attached to one side. As time went the cloth was known as P-cloth and then it got further modified and now it is known as a pea coat. These coats were originally made by using 30 oz wool but today nearly 22-33 oz of wool is used. Most of these coats are manufactured with utmost care. The fabric which is used is of the finest quality so that these coats can be used for longer period of time. The manufacturers take their time while selecting the materials for these coats. They always purchase quality materials from certified vendors.
Purchase Wool pea coat directly from a manufacturer or whole seller so that you can get a discount. These manufacturers even alter the size and the designs of these coats as per your requirement. Most of these manufacturers have proper tools for stitching and designing these beautiful coats. They have teams that look after the production of these items and they also check the defects. There are online stores from where you can easily buy these coats. Try to find a website from where you can get these items at a reasonable price. You can view the product details and the price associated with these products. Most of these websites offer a discount for placing online orders. Some might even quote you about their shipping charges so that you known exactly how much you have to pay while purchasing these products.