Home > Articles >Choosing the Right Tuxedo Shoes to Complete Your Formal Attire
Choosing the Right Tuxedo Shoes to Complete Your Formal Attire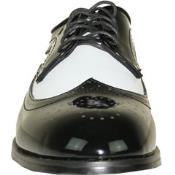 Tuxedos are obvious choices for formal wear. Whether it is a swanky party or a wedding occasion, you would need the right tuxedo shoes to complete your look. Since you have already put in so much research in finding the right tuxedo, therefore, it makes sense to put in similar kind of effort in finding the right shoes to wear as well. Since the wedding is the commonest of occasion where we wear tuxedos, therefore the choice of the shoes should also be done keeping in mind the wedding. Whether you are the groom or one of the groomsmen, you need to pay sufficient attention in buying the right pair of shoes.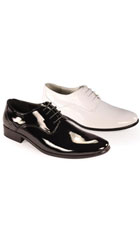 Buying a pair of shoes seems pretty easy at the first glance, but there are different aspects of details involved. You would have to decide on the color of the shoes foremost. For example, white shoes never go well with black tuxedos, unless you are wearing white trousers with the black jacket. But only few prefer to wear white trousers with black jackets, so your choice of shoe color should obviously be black. You can also choose the deep brown shade, but only if you are not being able to find black shoes. If you are wearing a white tuxedo, then only you should wear white shoes.
Next, you will have to choose the style of the shoe. Shoes are available in different styles. However, in matters of tuxedo shoes, your choice would be limited between either the slip on shoes or the laced shoes. It is essentially a matter of personal preference. The personal preference is again based upon the comfort of wearing the shoe. The shoes should be so comfortable that you must be able to dance in them; such should be the criteria of choosing the right shoes for a wedding occasion. Also, while choosing shoe style, you should be making sure that your choice of the shoes is consistent with that of the shoe choice of the groom or other groomsmen. Some of you wearing laced shoes, and others wearing slip on shoes is not what you should be looking for. You have to see that all of you are either wearing laced shoes or slip on shoes. This is a collective decision that you would have to make.
You will also have to choose a particular finish for your tuxedo shoes. According to the finish, the shoes are classified into the high gloss shiny version and a duller matte finish version. You would have to essentially choose between these two. Your choice should definitely be done taken into mind the consistency aspect mentioned above. If you are the groom, then to distinguish your presence, you can wear a different shoe style than the groomsmen. For instance, if the groomsmen are wearing matte slip on black shoes, then you should be wearing a laced high glossy shoe to go with the occasion. You should take into attention all the aforesaid details in order to make a suitable choice of tuxedo shoes.