Home > Articles > Stingray Boots: Water Resistant and Stylish
Stingray Boots: Water Resistant and Stylish
Buying a pair of boots made from Stingray skin is comparatively easier than maintaining it well enough so that the shine and shape remains intact, or else the entire idea behind owning such an expensive pair of shoes goes to waste. To ensure this, you need to follow a cleaning routine so that your Stingray Boots appear as attractive as they were, when you bought them.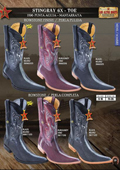 Rain or shine ? a pair of Stingray Boots is always desirable! It?s made from fish skin; yes you heard it right ? fish skin. A particular type of fishes known as stingrays, found mostly in tropical or subtropical climate, looks deadly and has an amazing defense system to protect itself. The skin of this fish is used to make leather products which are both durable and long lasting and a bit on the higher side of the budget. If you talk to the designers you will get an idea about how much time and effort is required to pierce through the tough skin of Stingrays! And, this is the most important reason as to why this type of boot is so expensive.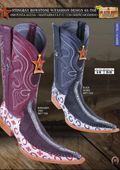 When it comes to defining this variety of leather products there is one common statement that does the rounds ? it simple looks out of the world! The pointed cut and the surface makes you look absolutely amazing and stand out in any party or social function where you may have decided to wear them. Usually, the Stingray Boots are handmade with exclusive tools which need to be tough enough to break through the tough skin to be able to give it the desired shape and style. You can get this kind of boot in two varieties ? shine or matte finish.
Apart from Stingray Boots, the skin is also used to make a number of other leather products such as wallets, jackets and other accessories. If you are planning to own a pair of boots or any other accessory made from this variety of leather then you also need to be aware of the ways to keep it clean and ensure that the quality does not subside even after years of usage.
The most important thing that you need to remember when you are caring for your pair of boots is that it gets its strength from the minute fibers and thus it becomes very important to keep the surface clean with the help of a half wet cloth. Ideally this cleaning process must be done once in every 10 days, depending on how much you are using these boots. The point is that you need to keep the boots clean from dirt and dust. To give your Stingray Boots that extra shine even after a number uses, you can apply a bit of beeswax boot conditioner to it but be sure that this conditioner does not include any silicon in it. Lastly, you also need to maintain the shape of these boots and the best way to ensure that is to place cedar boot trees inside it them so that you get the same shape whenever you plan to wear it.