Home > Articles > Steven Land Shirts for Adding an Edge to Your Appearance
Steven Land Shirts for Adding an Edge to Your Appearance
Steven Land Shirts are synonymous to mens luxury clothing. Starting from formal to semi formal to sportswear, you can get it all from the house of Steven Land.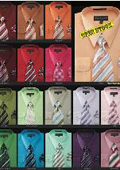 If you have a penchant for the finer elements in life and have the resources to own them then dont look beyond Steven Land Shirts. For those who have an idea about this brand, they will know that when it comes to originality in design, the house of Steven Land is the trendsetter. They dont need to follow the fashion rather it is the industry that tries to bring in bit of Steven Land to their creations. Each and every creation has a distinctive style to them and they exuberate with class and elegance.
A bit about the origin of the brand Steven Land
Steven Landman, the founder of the brand, always had this thing about designing clothes and accessories according to the likes and dislikes of people, irrespective of what religion or gender they belonged to. This was the result of in depth interactions with people from all cultures and this is what gets reflected in each of his creations. The brand started off with ties. The big knots which are so famous at present saw the light of the day because of Steven Landman?s ingenious creative inclination! You would be surprised to know that he designed ties out of fabrics for women?s apparels. And, these were sold out at a particular exhibition. Though Anniva (1990) was the first design house for Steven, he soon followed it up with a house with his own name. Thus, the brand Steven Land came into existence.
Now, the question is why it is important to know about the beginning? It?s pretty simple actually ? when you plan to buy a shirt from the house of Steven Land Shirts then you must have a brief idea about the idea which goes behind making every piece a unique one. It?s actually not much of a wonder that Swarovski has only allowed Steven Land to embed their ties with crystals. If you have been searching for original masterpieces in men?s wear then your search has to end here!
Types of Steven Land Shirts
You can choose from their Fashion Collection, in Stock Program, the Elite Collection, Evening Collection, Slim Fit and Sportshirt collection. Each collection has its own theme. While Fashion does a fusion between formal and semi formal look with a play of patterns and colors, In Stock features the more demure stripes, checks or monotones. If you are looking for the classic and traditional then you can take your pick from either the Elite or Evening Collection. Elite offers an interesting pattern on self color in either white or blue while the Evening collection has been designed keeping the requirements of formal occasions in mind ranging from pleated tuxedo shirts to cotton stripe shirts.
All your Steven Land Shirts come in hundred percent cotton fabrics with hidden placket and French cuffs or barrel cuffs according to your preference. You can also choose from double collared shirts in contrasting shades for brightening up the appearance. You can also match your shirts with a suitable tie or cufflink from the store.