Home > Articles > Roper Boots: Ride High with Style!
Roper Boots: Ride High with Style!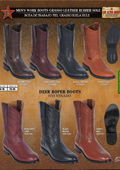 Roper Boots are an amazing variety of cowboy boots which come with a stylish look and a comfortable feel so that all kinds of wearers are benefitted. The fit is like that of a regular shoe and the heels come in round and square varieties both according to their requirements.
It was quite some time back that cowboy boots were introduced to the fashion circle and it took the world by storm with its sleek? and stand-out-in-the-crowd? design. After a few short years of hibernation (or so it seems!) this particular type of boots have come back to the scene and with a rage! Now, that it is back, you can take your pick among all the different kinds of cowboy boots that are available including the relatively modern Roper Boots.
Originally cowboy boots were made without any lacing and a Cuban heel to be worn by riders but eventually the demand for a kind of boot that can be worn by rough riders gave rise to this roper style boots which come with a squarer and flatter heel as well as lace-up or zipper style for the comfort of the wearer. In the classic style the heel is a bit angled whereas in roper variety, the comfort is a more important factor than style and thus it is made with a flat heel, minus the angled style in its predecessor.
The boot shaft is also lower in Roper Boots than in the classic designs. The shaft ends somewhere between the ankle the mid calf section. This gives the wearer greater hold to the boot and makes it ideal for rough uses such as walking for long distance, which could not have been possible with the classic variety of the boots. The lace-up deign also allows the wearer to do their work comfortably without the fear of the boot falling off their feet.
In the beginning the Roper Boots were made with a rounder heel but after some time due to the demand of the fashion circles, these boots began to be manufactured with a square heel to give it a smarter shape. Even though this type of boots were made for the rodeos who required these boots for accomplishing their riding requirements, the style and comfort of the boots made them popular among the general users as well. This is one of the reasons as to why this kind of boot is also known as riding boots!!
These boots are available in a number of colors, style and design to match with your wardrobe requirements. The fit of this kind of boot is also like that of a regular shoe. So there is more space for your feet than what you would have got in Cowboy style shoes, with a narrower space. So, the next time you plan to buy Roper Boots be sure that you know what kind of boot exactly you are looking for and, more importantly your look. This is very important if you really wish to make a fashion statement by wearing your exclusive pair of lace up boots.