Home > Articles > Choosing the Right Attire for a Wedding
Choosing the Right Attire for a Wedding
A Wedding is the most memorable event in a man's life, and nothing can compare to the happiness of being the best dressed on that special day. There are numerous choices to explore when it comes to wedding suits, if you wish to break free of the limitations of just a black tuxedo. You can go for various kinds of fabrics, styles and accessories for your suit which guarantee uniqueness and trend. Our website contains tons of varieties in suits for men, which can all be looked into with ease. If you wish to stick with the classic black tuxedo, you can rule it and look excellent by sporting it right. Your outfit is very keenly noticed on your wedding day, and hence, always go with a well fitting and a brand new tuxedo. Remember that fit is the key to nailing it. The fabric that you choose for your tuxedo should always be super- lightweight luxury wool, as they are very breathable and comfortable. There are numerous style tips that you can follow which make you a head turner and make you stand out in the crowd. The most important aspect is to nail the fit. There is a very detailed size chart on this website that can help you determine the exact size for your shirt, trouser and jacket. There are guidelines present in the website which tell you how to take your own measurements, compare them with the size chart and conclude your exact size.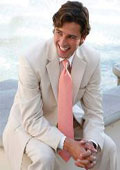 Style Tips For Your Wedding Suit
If you think that there cannot be any way to make your wedding suit look more elegant and dapper, you are wrong. There are tons of other things you can do to make your suit a tad more gorgeous than it already is! Remember that beauty lies in the little details that are sometimes overlooked.

If it is a classic tuxedo that you opted, go for a black bow tie which is an excellent partner to the tuxedo. Wear a self tied bow tie and look like a fashion-forward charmer. There is an aesthetic excellence in bowties worn with tuxedos and you are definitely the man to bring it to light!

Classic black oxford shoes look incredible with tuxedos as they complement the tux's elegance, class and grace perfectly well. A black oxford lace up would take care of all the accessorizing that you might ever need for a tuxedo.

Similarly wear a plain white pocket square in a beautiful style and add to the majesty of the tuxedo. They are timeless pieces of accessories and wearing a plain one can make you look ten times classier. There are numerous folds that you can do on pocket squares like a one point square fold or a flat square fold.

Accessories like wrist watches, finger rings and belts can also be sported which complete the outfit and give it a finished look.

Short and broad men should stick to single-breasted jacket as it adds height and makes them look slimmer.

Muscular and vertically lifted men should prefer clean, smooth, pleated shirts or double-breasted jackets to avoid looking bulkier.

Men with heavy waist should go for vest rather than cummerbunds as that will draw the attention away from their waistline and up towards their faces.

If you have opted to wear other solid colored suits for your wedding, accessorize accordingly which ensure that you are the show stealer on the occasion.