Home > Articles > Choosing a perfect overcoat
Choosing a perfect overcoat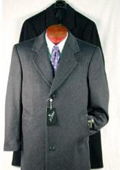 Now choosing a perfect overcoat is not a daunting task. There are various ways in which you can select and buy a proper coat.
A long coat which you can wear as outermost garment is known as overcoat. There are various types of overcoats which you can choose from. The Greatcoat is a coat with numerous shoulder capes. The Redingote is a type of long coat which is used by both men and women other than these you can look for Ulster coat, Chesterfield coat and Inverness coat. These coats are worn above casual dresses or even above suits. These were part of military attire but with time these were used by normal civilians. These were generally used by soldiers to keep them warm but it slowly it became a proper fashion statement.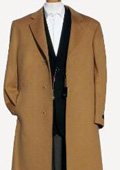 You can choose a single or double breasted overcoat. These coats are designed in a way that these will save you from harshness of winter. These can be worn during special occasion. While buying a coat you should keep in mind few things. First check the fabric with which these are made. Coats can be made from cashmere, leather or other fabrics to make them durable and comfortable to wear. Always check the buttons and threads and avoid coats with broken buttons and loose threads. Choose a coat a design which you can wear anywhere and anytime. The other important thing that you must consider is the length of the coat. Coats can be full length or come in half length. Choose the length of the coat according to your height.
There are companies and manufacturers whom you choose for ordering any such coat. These companies and manufacturers have their own team of designers who will help you to choose the correct type of design. You can even ask them for a particular design that you wish to have. Most of these companies use modern tools for stitching and designing these coats. They use the best type of materials for making these coats.
You can even purchase an overcoat through Internet. This option helps you to save your time as you do not have to visit shops to choose a coat. All you have to do is to search for websites from where you can get information about proper coats. You can browse through various designs and get information about the materials which are used and also about the prices. There are various websites from where you can easily get a good discount for purchasing such products. Try to find an authentic site from where you can purchase these items. There are various websites that will squeeze your money for an improper item and you should be well aware of these sites. It is advisable that you should take your own time and find a proper online store to buy these items. There are shipping charges associated with such online products and you should know about these charges before ordering for a coat.