Home > Articles > Creating Fashion Statement with Exotic Ostrich Boot
Creating Fashion Statement with Exotic Ostrich Boot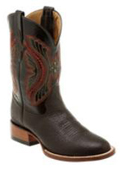 Ostrich Boot are inevitable to complete your classic western look. These boots are immensely popular & easy to maintain. Though little expensive, still when someone wants to establish his/her own exotic style statement, these pair of boots are a must.
An authentic western look is incomplete without boots. There are various types of boots in the market. But when it comes to a completely elegant & different look which will turn everyone?s head around, you simply cannot overlook Ostrich Boot. Ostrich boots are the most popular western boots made of leather. The materials are definitely one of the costliest, strongest yet flexible one. These boots are also known as Cowboy boots. They are extremely elegant, strong, durable & comfortable to ware at the same time. As Ostrich skin is full of natural oils, the boots are crack resistant too. So, one can ware these pair of boots for a long time.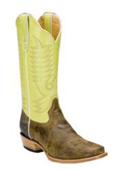 These knee-length Ostrich Boot are available in many colors, shapes & styles. Also they can be worn by both men & women. Now the question is what is so different about these boots? One factor that sets the substance & boots apart is the feather or quill. The leather is available in three varieties- full quill, semi/partial/half quill & smooth quill. Full quill lathers is full of pores, it is the thick yet supple, very popular & expensive one. As mentioned above, it?s available in different colors, like- green & blew; still the more desirable ones are black, brown & natural tan.
Today we hardly get any time to take care special of anything, no matter how costly they are we always look for things that can be easily managed. Though these are the most sought after boots, one may think that it will be very difficult to maintain the same. But that is not true, these boots are actually need very less maintenance, still can look new. Let us take a quick look as to how can we take care for Ostrich Boot:

Just like any other shoe, you need to keep them away from dust or dirt
Buy the suitable ostrich leather conditioner. Apply a thin layer & let it get absorbed for some time. Then remove the excess part with a piece of cloth
Though it is durable, still the colors are likely to fade away. An easy way to avoid that would be to use a darker shade
When you are not using it, cover them properly
Never use any wet material on it, rather use damp cotton & sponge to remove any mark.
Never apply ?any? shoe polish. Always use polish, crème or conditioners that are suitable for the leather type.
Wasn?t that easy? So, if you were apprehensive about buying Ostrich Boot, assuming they would be extreme difficult to handle & cannot be worn more that a particular period of time, think twice. With some very simple, easy & common steps, you can easily create your own style statement.