Home > Articles > Vintage Wedding Dresses Are In Style
Vintage Wedding Dresses Are In Style
Your wedding day is not a day that you take lightly. You have been planning it for months and you want it to be the perfect fairytale wedding that you will remember forever. Naturally, you want to look your best and captivate all who see you, especially your man. The wedding dress is one of the most, if not the most, important part of your look for your wedding. A beautiful wedding dress adds greatly to the magic of a wedding, Vintage designer wedding dresses are the perfect way to appear radiant and beautiful for your wedding.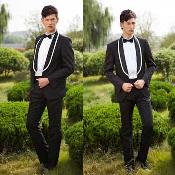 There is a wide variety of styles available when it comes to vintage wedding dresses, including some modern takes on classic styles. Vintage wedding dresses traditionally have sleeves and straps, but some modern dressmakers have incorporated sleeveless and strapless designs into the vintage look. Many vintage wedding dresses are very elegant in their simplicity, being more form fitting and utilizing less material. Dresses with longer trains and intricate designs are also available though. Given the wide variety of styles of vintage wedding dresses and modern modifications of them, you are sure to find something that complements your beauty and matches your personality.
Our dresses are of the highest quality and many types of fabrics are available depending on your needs. The fabrics available are: silk, batiste, brocade, charmeuse, damask, duchesse satin, dupioni, moore, organdy, organza, and georgette. Prices vary depending on fabric and style, but you will that the level of quality we offer for our prices is unsurpassed. Peruse our selection of dresses on our online store to find a dress that will make your wedding an unforgettable event.
1960s suits to add a timeless look to your wardrobe
The 1960s were a time of great contrast and revolution in culture, and therefore also in fashion. Thus, the classic suits from earlier periods were still prevalent, yet new styles of suits were also emerging. This made for a unique selection of timeless styles that are still in vogue today. 1960s suits are iconic of the powerful and controversial figures who wore them. Perhaps you relate your style to the 1960s and choose your statement of style, or maybe the carefree vibe of the beatles is your style, either way, we have an extensive range of fashionable 1960s suits.
The more formal suits of the 60s were often grey, single vented, single breasted, and paired with a white dress shirt and solid tie. Of course, there are variations of this theme including double breasted, patterned ties, patterned suits, black suits, brown suits, and more flamboyant colors. Many of the 1960's suits were also slim-fitted with a tapered waist that produced the appearance of a masculine V-shaped torso. These classic looks are greatly sought after today and you too can embody the same mystique that figures in the 1960s exuded.