Home > Articles > Three Button Suit Looks Awesome In Tall Men
Three Button Suit Looks Awesome In Tall Men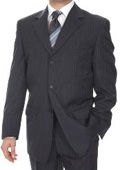 Suits are the staple apparels of men around the globe. You will find all men wearing their best suits to look great wherever they go and draw the attention of others by their unique designer suits. Today's suits portray the excellent workmanship of the master tailors who offer customers with endless cuts and fits in the huge collection of suits to bring out their personality.
You will find suits with variable numbers of buttons. Some have a single button; others 2 buttons while some are available with 3 buttons. However one thing that has been noticed is that the bottom button is always left open for a stylish look. However, according to fashion rules, the suit buttons should be kept buttoned unless one needs to sit down. But since this is a style, there are always exceptions and it depends on the wearer.
It is very important to select your suits according to your heights and stature. A man who is very tall looks wonderful in a three-button suit . The buttons move up till the chest offering comfort and appealing look to the wearer. Those who are fond of waistcoats can also go for these suits.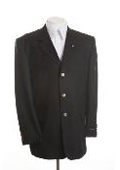 Although the three-button suit was popular during the 60s, designers have brought back this elegant suit style with slight innovations in cuts, fits and colors. The classic cut still remains the hottest pick and as you can wear it according to your own preferences, the three-button suit has become quite popular especially among stylish men. The lapel of the suit directs one to keep the upper buttons open or not.
According to recent trends, stylish men prefer to wear the three-button suit their own way. Some fasten the upper two buttons, while some choose to button only the middle button especially if the lapel has a soft roll that extends more than the first button. Whichever way you wear your mens 3 button suit, take care of the fits before you buy one.
These suits are suitable as office wears and offers an outstanding look for those who wish to dress the classic way and show off his tastes and dignity.