Home > Articles > Beat The Heat In Style With Summer Suits
Beat The Heat In Style With Summer Suits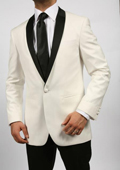 Summer can be a difficult time to look good. For that very reason, summer weight suits are an indispensable part of any man's wardrobe, because it is not possible to wear t-shirts and vests and crop pants everywhere. Summer can be a trying time when you are trying to dress up, especially when you have to look goods a presentable. Designers have come up with a new line of summer suits that are lightweight, colorful, easily maintained so that you can enjoy your summer in style.
Lightweight material
Summer weight suits are made of materials that are much lighter than those used in traditional classic suits. Because of this allowance, they even come in colors that are fun and elegant at the same time. The materials used are a more casual weave that allows more airflow so that your skin can breathe and your perspire less. There are a number of materials that used like lightweight wool, a mixed cotton weave is always a favorite. These suits not only feel cool, but look cool as well. The material used is summer and spring friemdly so that your skin does not feel trapped inside your clothes, and you can feel light and free, even during the sweltering summer months.
Wear them with anything, anywhere
Weight suits can be worn with a shirt and a tie. You can also wear them with bright color t-shirts that will make your suit shine all the more, and render you with the casual laid back look, which is the ultimate look for summer.
Summer is a time for light colors, because dark colors like black and dark gray and dark blue, makes one look heavy and feel suffocated as well. If you are the active, adventurous type, and you have a lot of moving around to do in the sun, while looking stylish and formal, then wearing such dark colors is a really bad idea. Lightweight suits come in fun, lighter colors that make you feel cooler, like pale beige or light gray and even white, so that you can beat the heat.
We offer a wide range of mens linen suits to make sure that you can look dapper in a suit, and feel comfortable at the same time, without a sweat.