Home > Articles > Striking Tweed Suit - Look Absolutely Charming
Striking Tweed Suit - Look Absolutely Charming
Tweed has always been a well known item for a long time. The suits coats and suits are very well known specially in the cold countries. They look good and are very very comfortable. Our online store has a fabulous collection of tweed 3 piece suit just for you. The Tweed suit will not go out of fashion and a new style always comes out. In fact the old styles are now becoming well known. In the cold weather you really have no energy tio dress up you're feeling so lazy and just want to get back in bed. But it is an important gathering and you really need to look good and impress a lot of people. Well all you have to do is go online and order that perfect tweed coat and your good to go.
Tweed always the savior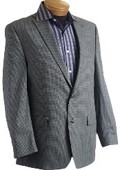 The good thing about the vintage tweed suit is that you can wear it anywhere and everywhere. People don't get bored of it and you absolutely love the texture. These Tweed suits are one of a kingdmade with the highest quality material and with an eye on the design. There are many kinds of Tweed Suits like the very well known and classic checkered Suit. They plain suits with a dash of color in them. We also have the absolutely plain suits. The suits come with matching tweed pants and the good thing is that you can match each with a different set of designs.
Very Soft and a treat for the eyes
The Tweed Suit is very soft and will keep you warm. You can wear the biscuit colored tweed suit for a professional meeting or the maroon tweed suit for that private dinner. They are very soft and once you put them on you will not want to take it off. You can match your tweed suits with matching ties, they look especially good with one colored ties and with the perfect belt you are good to go. The Tweed Suit stays in the same state for a very long time. The color does not run and because of the color it does not get dirty very quickly even if it does it is very easy to wash no trouble at all. So come get that fabulous tweed suit before the weather gets worse and you run out of the perfect clothes. So hurry now!