Home > Articles >Slim Tuxedo Styles - Learn The Different Styles
Slim Tuxedo Styles - Learn The Different Styles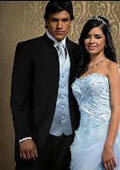 Tuxedos hold a special place in a man's wardrobe for it gives a man the much needed smart and elegant look perfect for any occasion and for being a perfect outfit for a dinner party. Tuxedos more recently have come more in the vogue all around the globe because of the latest fashion trends and knowledge that spreads easily. A classic tuxedo is usually black in colour as black has a certain charm of its own although in this world of ever changing and evolving fashion trends, nothing is static and so is the colour of the tuxedo which now comes in various colours and patterns.
A slim tuxedo has a very close proximity with suits so much that a tuxedo can easily pass off as a suit even not paid attention towards, especially by a novice. There are certain differences that differentiate a tuxedo from a suit and that is the hint of satin in tuxedo which is missing in suits. Tuxedos are also usually a pair of matching coat and trousers with an exception of white tuxedo jacket that is matched with a black tuxedo trouser and are meant to be worn as one outfit just like that of a suit. A tuxedo differs from a suit as its maples are of satin as compared to that of the same fabric in case of the suit.
Moreover, there are also hints of satin on seam of the pockets and buttons and also there is a stripe of satin at the outer seam of the trouser of the tuxedo. A tuxedo can be classified as single breasted tuxedos and double breasted tuxedos . Single breasted tuxedos are further divided in one-button, two- button, three-button and four-button tuxedos. The most popular and common type of tuxedo is the single breasted two-button tuxedo for it gives the perfect mix of a formal and casual look much needed for occasions such as dinner parties or orchestra party. Tuxedos are a possession and not merely an outfit and thus we advise you to invest in a nice well fitted tuxedo.