Home > Articles >Show Off Your Style With Alligator Belt
Show Off Your Style With Alligator Belt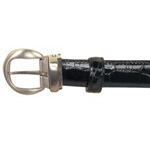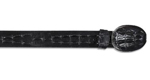 People have become extremely fashion conscious and always spend a lot on their accessories made from exotic . Exotic leather products are being used all over the world. At MensItaly you will get a variety of items like belt, ostrich wallets, briefcases apart from the suits and shirts etc. Each type has its own specific identity that makes it so special. Those who are interested in owning the luxurious Alligator belt can log on to www.mensitaly.com to know about the various styles and the prices also.
Alligator belt are made from the of an alligator that is handcrafted by designers who are professionals in this art. There are mainly two types of alligator skin belt namely classic and safari. The difference between the two depends on the amount of pressure applied to the . The classic finish belt are shiny and smooth as the extra touch ups are applied to the alligator with natural protein of raw eggs along with compression.
The Safari finish Alligator belt are equally glossy because it is treated with wax, oils, low-pressure and low buffing to bring in the smoothness. These belt are extremely soft but strong and can withstand all weather conditions. If your belt get wet, you can easily bring back the shine by slow drying and applying a good quality conditioner.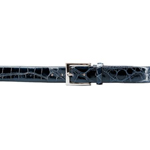 Styles keep changing regularly and to keep your self in tune to the latest trends in Alligator belt log on to www.mensitaly.com. Those who have once used these belt never buy any other variety of belt. The exclusive features that the belt have make them so popular worldwide. They are handcrafted and are therefore unique in designs. Moreover they are extremely tough and last for many years. Special Alligator belt are available for golfers that are made to order according to the shape of the golfers body.
For all occasions and formal gathering, wear an Alligator Belt and show off your style. You will easily be noticed even in a crowd because of your exquisite suit and special accessory.
The Western Alligator belt are cheaper than the fashion and designer belt. But they are in all ways stylish and of the highest quality. Since they can be manufactured faster the prices are low. The oily feature of the makes them so soft and smooth even if they are not compressed.