Home > Articles >Shoes That Speak Of Style And Fashion
Shoes That Speak Of Style And Fashion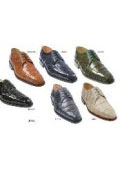 Celebrities pave the way for their followers to choose the perfect types of designer wears wherever they go. Well-known icons and fashion setters patent all kinds of designer suits and tuxedos, shoes, boots and sandals. People follow their footsteps to look attractive and stunning like them. Steve Harvey Shoes are the collection of alligator and shoes crocodile that almost all stylish men and women wear.
As the name denotes, Steve Harvey Shoes is not only a collection of the best categories of exotic leather shoes, but is a class of its own. If you can pair up a pair of these shoes with the well-fitted fancy suits, you are sure to rock the show. Log on to www.mensitaly.com to see what this amazing Steve Harvey Shoes collection has in store for you. Whatever event you go to, you will be complimented for your unique sense of style and unparalleled choice. With a pair of these designer shoes you will not only feel good and comfortable but it will take you to another level of style and fashion. To stay ahead of others in fashion and trends, get a pair of the mens dress shoes today.
Alligator skin shoes and crocodile skin shoes are the most wanted shoes of today. The best collection is available at MensItaly and the quality of the shoes is incomparable. The comfort, style, protective features and the styling of the Steve Harvey Shoes have taken this brand to the highest level of popularity. Professional craftsmen take care of minute details to ensure quality and accuracy in every pair. The skins of these exotic animals are worked out specially to retain the natural look of the reptiles. The uniqueness of these Steve Harvey Shoes rests on this factor- the natural look.
Other advantages of wearing these shoes include strong grip, soft and cushioned insoles, shockproof outsoles, abrasion proof sides ultimate comfort and freedom of movement. With these special shoes on your feet you can never go wrong. Others will envy you for your elegant choice of footwear that will increase your standard and dignity everywhere you go.
Log on to www.mensitaly.com and pick out the right pairs of crocodile sneakers that will make you look like the star himself. Your choice of attires and matching accessories are the mirrors of your personality. So select the right fit and colors to look dignified and sophisticated and move along with confidence.