Home > Articles > Selecting Cheap Suits For Toddlers - Easier Than You Think!
Selecting Cheap Suits For Toddlers - Easier Than You Think!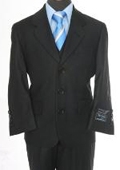 At times when you are invited to a formal gathering, there is a fissure of pressure attached to it that you have to look your best. But you don't have to let the pressure dwindle you from choosing the best clothes for whatever the occasion is, or spend huge amounts of money for this purpose. When it comes to selecting the right kind of cheap suits for men for toddlers, there is no exception to these common sense rules. All you need is a good degree of determination and the right information to keep you going.
Anyone would want their toddler to appear most suave. For this purpose you can easily look for the cheap suits for toddlers on the website of www.mensitaly.com. Here you are ensured that the customers get the perfect fit and quality without burning a hole in their pocket. Wearing a suit for a toddler is quite a proud and touching moment for their parents. And since it is one of the firsts, it is becomes all the more important to get such a suit that will undoubtedly complement your little son. Not only will you get a suit appropriate for the occasion, but also a fitting that is crisp looking, a result of exceptional tailoring. Understanding these needs and desires of a parent, www.mensitaly.com make sure that our collection fits to the bill, bringing out satisfied customers.
To get started with the right selection method, you need to know some basics first. Knowing the right measurements is the most basic step for getting the right kind of cheapest suits for toddlers. Therefore to start, you need to take several measurements. You need to take measurements of the chest, back shoulder seam, sleeve and out seam. To measure the chest accurately, take the tape and take it round on his chest, without his hands on his side. For the sleeve, you would need to measure from the outer edge of the shoulder to the wrist. The shoulder seam has to be measured from the shoulder to the back, and for the out seam you need to measure from the waist to the floor.
Cheap suits for toddlers are bought for a particular formal occasion, so it is imperative to get the fit and size just right so that your son doesn't look clumsy. The fitting is extremely important for the kid because they would otherwise be very uncomfortable in an ill fitting suit and will not be able to carry it off.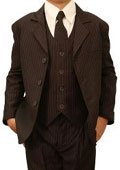 Once you are done with the measurements, you have to think what kind of suit you should buy for your son. Would you like to go completely formal, clean and simple or is there scope for making your selection a little gorgeous? You can surely try to select the tux depending on the theme of the party. Since you are buying a suit for your little tot, you could even consider buying different coloured cheap suits for toddlers like in pink, yellow, cream or some other pleasant pastel shade. No matter what you are looking for in style, colour, fit or size...you know your one stop shop is www.mensitaly.com. Whatever you select, you will surely have fun dressing up your boy and this will make attending the event more worthwhile.