Home > Articles > Purple Tuxedo Vests - Picture perfect
Purple Tuxedo Vests - Picture perfect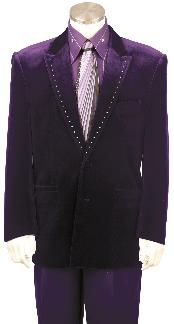 The purple tuxedo vest is just picture perfect and one of the unique items in our collection. You never have too many tuxedo vests right? You are tired if all the same Colors and want some spice in your outfit. You want to start a new fashion trend in your neighborhood or in your college or even in your school. Well we have just the thing for you. Our online website has this purple tuxedo vests collection that as mentioned before is unique and is an absolute eye catcher. The tuxedo vest is one of the most important items in a whole tuxedo suit. The perfect tuxedo vest will show of your figure and will give you a regal look. You want to look classy well the perfect tuxedo vest changes the whole look of the tuxedo. The purple tuxedo vest is perfect for a fashionable tete-a-tete or a gala.
Feel different in this unique purple tuxedo vest. This vest is perfect, it is not too tight and not too lose gives your body enough room to breathe. The vest is very light and will feel like a second skin. Once you put on this vest you will see how it changes your look and you will not want to take it off. The Color purple is a well known Color but is hardly used to its potential. The purple in the tuxedo does not run and will not fade. It is easy to wash and dry.
You can wear this Color with any outfit. In fact you can wear this vest with casual pants or with jeans. When you are wearing your tux you can always take off your jacket and show off your new mens suit vest. You can also get a matching purple tie with your new vest and you are good to go. So come and change your style and give yourself a treat. You can gist these vests to a friend too. So hurry buy you purple tuxedo vest today.