Home > Articles > Pastel Men's Blazer For A Trendy Look
Pastel Men's Blazer For A Trendy Look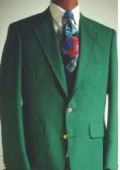 Colors play an important role in an individual's life. Most often men choose to wear colors that make them look smart and portray their personality. Hence designers have offered different shades of men's blazers leaving aside the typical black and white and navy blue. Pastel men's blazer is a new addition to your wardrobe that can work wonders for you.
Recent trends offer men with innumerable choices in the category of blazers. You can select exotic pastel men's blazer from colors like powder blue, light turquoise, grayish pink and such others. Although these shades may appear to be pale and drab, they portray a stylish lifestyle. These amazing shades have become the must-haves in stylish men's wardrobes. If you wish to move about in style and create a sophisticated position in society get some of the best designer pastel blazers for men and stay in tune with the trend.
Pastel men's blazer is just right for the summer parties. Previously men had a conservative outlook about their suits and blazers and wore the bold colors and their lighter shades. But life and mentality has changed a lot and men too like women are experimenting with new designs and colors. If you wear one of the yellow or pink suits at a friend's party, you are sure to be the center of attraction there. Try out the other shades and see how wonderfully they work.
However, you must know how to accessorize your mens colored blazer appropriately. Like, a blue pastel blazer looks great when worn with cream color shoes, a polka dot navy blue tie and a white dress shirt. If you are not too sure about the accessories that you should wear with your pastel blazers, take the opinions of professionals present at the renowned stores. They are experts in this field and so you can take their help to rock the party.
The cream pastel men's blazer is unique as it can be worn also to the workplace. All basic colors look good with cream color thereby retaining your manliness and sophistication. Fine stripes too look amazing. Try out the new style from the pastel men's blazer collection and see the difference that comes your way.