Home > Articles > Exude Panache With A Pair Of Alligator Boots
Exude Panache With A Pair Of Alligator Boots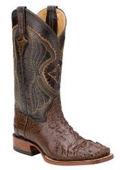 It doesn't matter if you are wearing your alligator boots with a pair of denims or with formal attire. They bring class and panache to any look and make you the center of attention in any crowd. Alligator boots come in different designs and cuts, and depending on your personal choice, you can select the kind of alligator boots that you wish to sport with your attire.
Types of alligator boots
These boots not only enhance your personality, but in the category of boots, they are an excellent investment, since they are hardy, durable, and stylish and not everyone has one of these. So, automatically it becomes a coveted part of your wardrobe. There are different types of alligator boots like the top cut boot, which makes you look like you mean business. The tail cut alligator boots are more demure and classy and can be worn to formal events with ease and at the same time, they can be smart street wear as well.
Original alligator boots
We offer a range of original mens cowboy boots that makes you feel confident and stylish. The thing that you must keep in mind while selecting a pair of boots is that original alligator boots have marks and scars. If you see that a pair of boots is without a blemish or a line, then that is a fake, because original alligator skin comes with the marks that the reptile gains during its lifetime, so naturally, the boots too shall have them.
Variety of colors and designs
The best thing about alligator boots is that they come in a variety of colors and designs, so that you can mix and match your outfit, so that it complements your boots.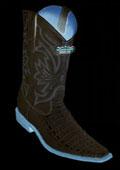 They come in smart cuts, and fit snugly, so that you will barely be conscious of the fact that you are wearing the boots, except, perhaps, all the attention you get will prevent you from forgetting about them. We offer a mind-boggling variety of alligator boots so that you don't feel the need to go elsewhere to get what you want.
Full dress tails or tailcoats are never simple to purchase, yet with our simple to-search through accumulation and our assortment and devoted client administration, it turns into a smooth methodology for you to select a tailcoat for an event which requests most extreme convention.