Home > Articles > Mens Off White Dress Pants - A Cool Look
Mens Off White Dress Pants - A Cool Look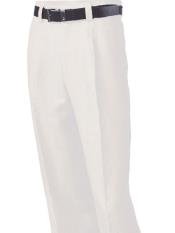 You just remembered that you have to go off town for a while and you need to take most of your clothes with you. Specially the formal ones. Its an important business trip and you have to look very professional. You have to be very comfortable too, as you have to give a speech and a presentation. We know that when we are not comfortable we always mess up our speeches and we always stammer. It always shows on our face that we are not comfortable.
The people around us want to see a calm and confident individual not someone who is moving from one side to the other adjusting their pants. We are here to solve your problem. We have an amazing collection of Men's Off White Dress Pants and they are just waiting for you.
When you are traveling no matter how much research you do about the place you go too, something or the other surprises you and you always need to rethink your wardrobe next time. Well these awesome new dress pants are there to solve your wardrobe problem. They blend the professional with the casual and will definitely solve your fashion issue.
Comfortable and the color is perfect for all kinds of weather
The Men's Off White Dress Pants are for both the professional wear and the casual style. You just need to pact these pants and a number of new shirts with jackets. The off white color is a very cool and comfortable color whether it is a sunny or a cloudy day.
The pants are fashionably cut and does not stick to you. some pants just rise up while you are walking, well that won't happen with these dress pants. These pants will not irritate you with wrinkles so that you do not have to keep ironing them over and over again. You have a casual rendezvous, just put on these pants and a casual Hawaii style shirt with a hat and you are good to go.
The dress pants are made of very soft materials and have a silk like feel to it. They are perfectly tailored and you will definitely get your size. You want a tight one to show of your muscles well that available too. So come on before your big meeting, get these amazing off white dress pants and impress your boss like no one else.