Home > Articles > Lizard Shoes That Offer An Exotic Feel
Lizard Shoes That Offer An Exotic Feel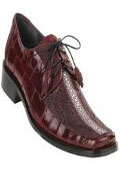 We wear shoes not only to protect our feet from dust or accidents, but also to look decent. It is a fact that we can wear even the ordinary leather shoes to fulfill these requirements. But fashion conscious men and women around the world wish to look different and portray their individuality by wearing the designer apparels and suits with exotic leather shoes as well.
If you log on to www.mensitaly.com you will come across a huge collection of shoes made from exotic skin of animals like alligator, crocodile, stingray and also lizard. There are people of different tastes and those who wish to get a pair of the Lizard Shoes can step into the amazing world of MensItaly where you will get all that you wish to buy for perfect and complete apparel.
Lizard Shoes and stingray shoes are extremely stylish and are designed by the best of professionals in this field. They have their distinctive features that create the unique look and help the wearer to establish a style statement of its own. The purity of the skin and the natural luster has won great popularity and recognition from celebrities and style icons of today.
The stingray sneakers are not only very elegant and beautiful, but they are very comfortable too. The skin of the lizard is also very strong that offers durability to the shoes. You will get a variety of designs and cuts, variations in the heels and embellishments at the outlets. Choose the ones that cater to your needs and fit you well. A perfect size and appropriate color choice can really go a long way in changing your entire look and status.
There are different types of Lizard Shoes like the shoes crocodile or the Lanier. These shoes offer high-end quality and the exotic colors like blue, burgundy, black and the unconventional green are just beyond comparison. The Laredo collection of Lizard Shoes is available in other colors too like brown and the usual black and blue.
The ideal way to buy these wonderful shoes that will be an asset to your shoes collection, is to shop online where you can see the entire range of crocodile shoes, available sizes, colors and the prices too. Look out for year-end sale at www.mensitaly.com to avail of the offers and deals. In this way you can pick up more than a pair of these exotic skin shoes without straining your pockets.