Home > Articles > Beautiful Ivory Tuxedo Jacket
Beautiful Ivory Tuxedo Jacket
We all know that white is a sign of purity and white signifies passion, confidence and a whole lot of other qualities. White can be worn at any occasion be it a formal. Semi-formal or a informal occasion. You look at white and you relax. Our online store has an exclusive collection of beautiful Ivory Tuxedo Jackets for you. They are gorgeous and any man who wears them will look like a million dollars. These ivory tuxedo jackets are seen in several movies special the ones where the secret service agents are attending the ball to save the world. So you see the ivory tuxedo jacket exudes confidence and makes a man special.
Beautifully tailored - epitome of perfection
The Ivory Tuxedo jacket is beautifully tailored and comes with high end classy styling techniques. The tuxedo will not get easily dirty; it is easily washed and become stain free. You can also get it with beautifully carved buttons. The Tuxedo comes with pockets for your red handkerchief; we have the ones without pockets too. The ivory tuxedo jacket comes with two buttons and maybe three. It has deep collars which show off your neckline and brings out your figure. You can also get the matching shoes and the frilly shirt from our collection and also other accessories are available. You can get whatever you want from our online collection. A whole new wardrobe is available for you and your whole family so come along and get that exclusive new ivory tuxedo jacket.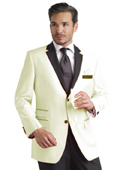 Style
The style of the ivory tuxedo jacket is unique. You can match the jacket up with practically anything. Wear this jacket to the office gathering and you will be the center of attention. Be stylish and look stylish. This jacket has been made with different materials which suit different skin types. You can get the mens coats of cotton or the wool. We have the mixture of the silk with several different materials. They are all of high quality and it will last you for a long time. so make this lifetime investment and watsh how your luck turns around.