Home > Articles > Italian Men In Suits- Know The Types And Get Ready To Look Suave
Italian Men In Suits- Know The Types And Get Ready To Look Suave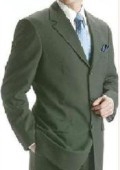 Giorgio ferraro suits are one of the best selling suits that our website inundates you with. The uniqueness of the fabric make all the difference. The fine fabric is medium weighted and is breathable enough to comfort you. A high quality tailoring is done to achieve this great piece that eventually makes this suit very long lasting. The mens italian suits for sale of the suit guarantees you 100% polyester. The suit is perfect for every occasion. It is so versatile that it fits for office purposes also. It is a must in your wardrobe that acts as a great companion to get into your daily schedule.
The suits are gaining momentum and popularity in the high end suit market. A manly yet a classy look is what every man wants. Our website provides you exactly what you need. The Italian men in suits should be your right choice to have a superior look. This makes it more in demand. Our website www.mensitaly.com gives you the best suit at an unbeatable price without compromising the quality.
The types of suits that would induce you to purchase it instantly are-
* Black pin stripe double breasted suits.
* Black pins stripe 2 button vested suits.
* Blue Striped 2 button suit.
* Brown window pane 2 button suit.
* Camel 2 button suit.
* Charcoal grey 2 button slim fit suit.
* Light Olive pin stripe 2 button suit.
* Shiny silver slim fit suits.
* Solid grey 2 button suits.
* Window pane navy blue modern lapel suit.
Elucidating the types -
Stripe double breasted suits
Our website serves you Italian designer suits to make your every occasion memorable. It is tailored in such a way that comfort becomes the first priority. This amazing suit is made by the experienced hands to make it last for a long time that provides you the pleasure of the posh fitting. A 100 percent rayon lining makes this suit perfect for any men.
Stripe 2 button vested suits
This jaw dropping under shirt suit features a classic tailored fit which is perfect for the office goers. Look best at any time of the hour by wearing these amazing suits. Stitched with a notched lapel, and buttons running down adds to an unparalleled detailing.The cuffs of this jacket perfectly match when teamed up with flat front trousers. A wonderful collection of suits from the best italian suit makers is presented to you on our website. Browse through the rich collections and get ready to be the center of attraction.
Striped 2 button suit
The outstanding blue stripe suit is tailored to perfection to deliver you only the best. A nice way to look outstanding would be to pair up with flat front trousers along with a single-breasted mens designer suits with notched lapels. Make sure you dry clean this uniquely designed fabric to extend the longevity.
Brown Windowpane 2 button suit
This two-button, single breasted suit is a classic representation of Italian suits which comes in an attractive shade of brown. Brown has been the most preferable color for men. Grab the awesome Italian suits from our website www.mensitaly.com as we ensure you a promising quality along with a price that would maintain the equilibrium of your wallet!