Home > Articles > Flaunt A Prince Charming Look By Wearing Midnight Blue Tuxedo
Flaunt A Prince Charming Look By Wearing Midnight Blue Tuxedo
Ultimately, you decide to propose your women of life to get married as soon as possible. Well, congratulations to both of you. Now, have you considered about the intimidating thought that when your would-be-bride will look like fairies in their wedding dress, what you will wear to keep the high standard? It is obvious that bright blue suit are one of the most popular and ideal attire for en on their wedding day. However, you have to know which type of tuxedos will be right to bring the best out of you. Moreover, if you want to give a competition to your bride regarding an outfit, you should consider wearing midnight blue tuxedo for sure.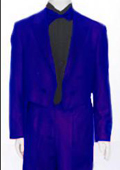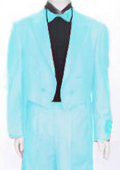 Our website comes up with varieties of wedding attires for men in terms of fulfilling distinct color, cut, style, fabric, design and pattern choice of grooms.
Appeal of Colored Wedding Attire
As white is the most dominating color to serve the wedding purpose, people tend to think that wearing colored attire might look odd. Therefore, in modern times, with so many experimentations are going on in the fashion world that people now want to opt for something different and unusual rather than being conventional. Although the traditional appeal of a white wedding outfit will never go out of fashion, wearing powder blue tuxedo will help you to set a individual style. Moreover, today's women are far more conscious about their look and they prefer to look like an angel especially on their wedding day. To keep at par with the modern culture, you have to go for something that is not traditional and have the capability to complement the look of the bride and groom.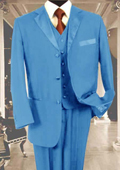 Our website www.mensitaly.com gives you the opportunity to get vintage blue tuxedo or midnight blue tuxedo along with matching accessories, footwear and other clothing items that impresses the bride and people with the complete mesmerizing look.